G20 agrees on an "action plan", but details will have to wait
Saturday, November 5th 2011 - 08:02 UTC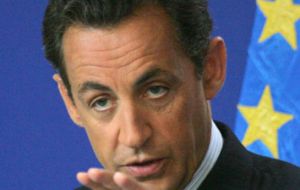 The G20, composed of the world's most powerful economies, come up Friday with an "action plan" to save the world economic and stabilize the global monetary system, according to an official statement from the Group of 20. The continuing Euro zone debt crisis has dominated the summit.
"We will fight to defend Europe and the Euro," said French President Nicolas Sarkozy at a closing press conference. He said the G20 had agreed to boost the resources of the International Monetary Fund (IMF) and would agree on specific steps by February.
France could not persuade the rest of the G20 to commit hard numbers to providing a bigger financial safety net for the Euro zone, she said.
UK Prime Minister David Cameron disputed the suggestion that there had not been the promised agreements. "There are agreements on both the Euro zone and the IMF," he said.
But he added: "The problem is not that there isn't a deal - the problem is that not all of the details... have been put in place."
Mr Sarkozy said that France and Germany were in favour of a financial transactions tax and they hoped it would be implemented in 2012.
US President Barack Obama was enthusiastic about commitments to greater currency flexibility.
"We welcome China's determination to increase the flexibility of the renminbi," he said
"This is something we've been calling for some time and it will be a critical step in boosting growth."
German Chancellor Angela Merkel confirmed that no countries outside the Euro zone had offered to contribute to the bailout fund.
The leaders released a final communiqué, which:
• Commits to move "more rapidly" towards greater exchange rate flexibility, without specifically mentioning China
• Agrees to support the IMF and give it more money if necessary
• Welcomes Italy's invitation to the IMF to monitor its economic reforms
• Calls on countries with strong public finances to take steps to boost domestic demand
• Welcomes the Euro zone's plans to restore confidence and financial stability
• Sets up a task force on youth employment
•
The head of the IMF, Christine Lagarde, told the BBC that she had received a "commitment" from the leaders. "For the moment I have sufficient resources to face requests," she said.
"But if there was a crisis, if there was escalating demands, then the members of the IMF present in the room today said, 'we'll put what it takes to make sure you can continue to play your systemic role'."