Greek PM wins vote of confidence and calls for national unity government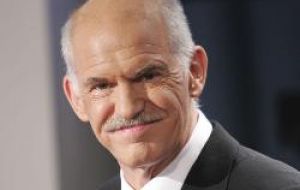 Greek Prime Minister George Papandreou survived a vote of confidence in parliament on Friday evening, while indicating that he might be prepared to stand down. Results showed there were 153 votes in favor of Papandreou, with 145 against.
The outcome will be seen as a brief respite after a week of drama in Athens that has overshadowed the G20 summit of leading world economies in Cannes.
During a tense process, in which representatives were asked individually if they supported the government, the vote appeared to be balanced on a knife-edge.
In the case of a vote in his favor, Papandreou had earlier said he would speak to the Greek president on Saturday about the formation of a cross-party government of national unity. He added that he was prepared for somebody else to head a new administration.

The Greek premier sparked international uproar on Monday when he announced a referendum on the latest 130-billion-Euro (180 billion dollars) bailout agreed by Euro zone leaders last week.
Despite defending his political record and attacking the opposition for failing to acknowledge their alleged part in past mismanagement of the economy, Papandreou said he was not concerned for his own position - or that of his own Socialist party.
He urged all parties to agree to the terms demanded for Greece to receive the latest tranche of funding - and a further second bailout fund - from the European Union, European Central Bank (ECB) and International Monetary Fund (IMF).
"Honest and broad backing is called for," said Papandreou, claiming that a vote of confidence in his government was an effective vote of confidence in the new package.
He called upon all lawmakers to be "level-headed" in the face of the crisis. Finally, the premier added reassurances to the international community - claiming that Greece had already made a "titanic effort" to meet its obligations.
"When the moment comes, the country does what it's meant to do," he said.
On Thursday, Papandreou backed down on the proposed plebiscite following heavy domestic and international pressure. It was feared that any "no" vote would cut off Greece's financial lifeline - sinking EU and international efforts to stop contagion spreading to other European economies such as Spain and Italy.
The government officially announced earlier on Friday that the referendum would not go ahead.