Brazilian Labour minister embattled in corruption claims says he won't resign
Wednesday, November 9th 2011 - 07:06 UTC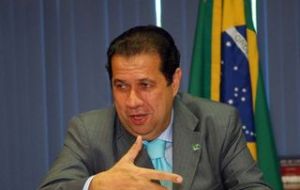 Brazil's labour minister vowed on Tuesday not to become the sixth minister to quit over corruption allegations this year, saying he has the support of President Dilma Rousseff and his own party.
Carlos Lupi is the latest minister to come under the media spotlight over alleged wrongdoing, worsening a political headache for Rousseff that has distracted the government's attention from pushing economic reform bills through Congress.
Weekly magazine Veja, citing unidentified lawmakers and officials, reported on Saturday that advisers to Lupi had demanded kickbacks on government contracts with nongovernmental organizations, or NGOs.
Lupi has denied having any involvement in the misuse of public funds at his ministry. Unlike some other officials caught up in the anti-corruption sentiment sweeping Brazil, he has not been directly linked to any wrongdoing.
"It would take a bullet to get me out," he told reporters after meeting with members of his centre-left PDT party, part of Rousseff's unruly 16-party coalition. "I guarantee you it won't happen."
He said that Rousseff, who took office on Jan. 1, had told him to continue defending himself.
The PDT released a statement saying he had the party's full support, although several leading members have called for the federal prosecutor's office to open an investigation.
Relations between NGOs – non-profit groups that perform activities such as worker training -- have been at the centre of at least two of the corruption scandals that have unseated five ministers this year. A sixth minister quit after making disparaging remarks about his colleagues.
Several of this year's scandals have followed a similar pattern -- initial denials by ministers followed by fresh allegations in the media and the eventual withdrawal of support by Rousseff.
The resignations have yet to harm Rousseff, who has benefited from a perception she is being tough on corruption. They have also helped her to put her own stamp on the government as she replaces ministers inherited from the previous administration of Lula da Silva.