MPs visiting Falklands commit support to help with Argentine "blockade" situation
Wednesday, November 9th 2011 - 07:24 UTC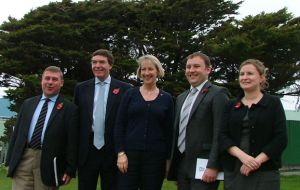 British members of parliament visiting Falklands say UK will keep diplomatic channels with Argentine open, but will pursue other options for communications and trade
A party of four British members of parliament have ended a familiarisation visit to the Falkland Islands by expressing their support for the Islanders' right to determine their own future, in spite of sustained Argentine efforts to impose what one of the MPs described as a "blockade".
Conservative MPs Mark Francois and Philip Dunne, and Labour MPs Gemma Doyle and Ian Murray, spent several days in the Islands at the invitation of the Falklands Government.
They visited the tri-service military base at Mount Pleasant, where they were briefed about the defence of the Islands, and were shown Typhoon interceptor aircraft scrambling for a routine patrol. The MPs also visited the local civilian defence force, and were briefed in Port Stanley about the fishing industry and plans to develop an oil industry.
The visit came at a time when the Falkland Islanders are being subjected to what many see as an aggressive Argentine diplomatic campaign to cut their communications and trading links with the mainland of South America. Local reporters who met the politicians at a press conference, asked for their views about Argentina's posture.
"The Islanders are a very resilient people," said Mark Francois. "They are determined that they will determine their own future without any interference from a third party. The Islanders clearly feel proud to be linked to Britain, and we all see that continuing very long into the future."
Philip Dunne said he and his colleagues had met the local chamber of commerce, members of which had made the point that inflation and the cost of living were inflated "in part because of the economic blockade".
Mr Dunne continued: "There are a number of ways in which the British Government can help the Falklands to maintain their economic viability, and that is partly through continued diplomatic efforts in multi-national groups. There are discussions between Foreign Office ministers on every occasion that they visit Latin American capitals".
He added: "I think there have been 29 visits to Latin American governments since this government came into office, which is about three times the rate of what was happening under the previous government, so there is a very determined effort to establish good relations with Latin American neighbours. The issue of [Falklands] sovereignty is always there".
It was pointed out that British Ministry of Defence minister Gerald Howarth visited Brazil earlier this week, and the issue of allowing ships to visit Brazilian ports en-route to and from the Falklands was "very firmly on his agenda".
Ian Murray said that the diplomatic channels with Argentina would remain open, but at the same time the government would look at other avenues to improve the Falklands air and sea links. Support for this would, he said, extend across both ruling and opposition parties in Parliament.
The members of parliament will be meeting with British ministers when they return to London to discuss their visit, and Mr Dunne said that he would be urging Foreign Office Ministers to visit the Falklands in the near future.
By Graham Bound – MercoPress – Stanley