Arguello named as the next Argentina ambassador in Washington
Thursday, November 10th 2011 - 08:06 UTC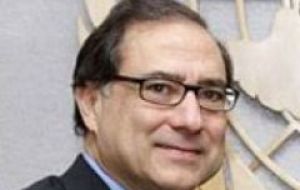 Jorge Argüello was appointed as the new Argentine Ambassador to the United States by President Cristina Fernández, according to a release from the Foreign Affairs ministry. Government sources in Buenos Aires said Argüello, who currently represents Argentina before the United Nations, will replace Alfredo Chiaradia in Washington DC.
Foreign Minister Héctor Timerman has already contacted the US Department of State for Argüello's approval, the statement released by the Foreign Ministry assured.
Arguello has been Argentine representative before the UN since 2007 and currently also is president of the G77 plus China group.
Elected to the Lower House in 2003, Arguello was president of the Lower House Foreign Affairs Committee and of the Parliamentary Observatory on the Malvinas Islands.
Besides his job in the UN, ambassador Arguello has been touring the world pressing for Argentina's sovereignty rights over the disputed South Atlantic Islands and has managed to make some fantasy statements regarding the Falklands Islands.
One of the latest is that the Falklands' population is held captive in the Islands by the British military, since they would love to migrate to Argentina where there are "plenty of jobs and work opportunities".
He has also mentioned that Islanders prefer to remain in the Falklands because contrary to UK residents they receive 'full' social welfare benefits.
Last but not least his fertile imagination has led him to say that it is precisely UK social welfare and the British military that are crucial for the 'heavily subsidized' Falklands colonial economy.
All his statements have been solidly denied by the elected government of the Falkland Islands based on internationally audited figures.