Brazil preparing battery of incentives if Q3 GDP growth is not convincing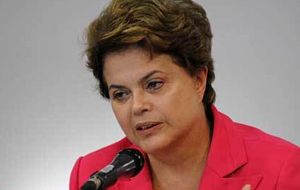 Brazil's government is debating whether to remove credit restrictions imposed in the last eleven months as President Dilma Rousseff seeks to shore up economic growth, according to government officials.
Rousseff's administration is concerned that Brazil may slip into technical recession -- two consecutive quarters of contraction -- and is considering ways to avoid slower growth, said the official. The Finance Ministry and the central bank declined to comment.
Brazil increased reserve and capital requirements, doubled a tax on consumer loans and increased the overnight rate this year as part of a plan to slow domestic demand that helped spur the fastest inflation in six years.
But since August, the central bank has reversed course and twice slashed the benchmark interest rate to protect Latin America's biggest economy from slower growth in Europe, the US and China.
Credit expanded in September at its fastest pace this year, led by loans from state-controlled banks such as BNDES and Caixa Economica Federal, according to an Oct. 26 central bank report.
Outstanding credit rose 2.1% to 1.93 trillion Reais (1.1 trillion dollars) last month, after a 1.8% increase in August, the central bank said in a report distributed Wednesday in Brasilia. Credit expanded 19.6% from a year earlier, above the bank's preferred 17% pace.
The government may also consider granting tax breaks to some industries to stimulate output and job creation, the official said. The government will take measures if third- quarter GDP shows a significant drop in economic activity, he said.
Brazil's economy will expand 3.5% this year, down from 7.5% in 2010, according to central bank estimates.
Finance Minister Guido Mantega said in an interview with Globo News TV on Wednesday that Brazil is bold enough to use all the tools at its disposal to prevent a crisis from spreading to the country.