Argentina expects soy crop of 49.5 million tons and 30 million tons of corn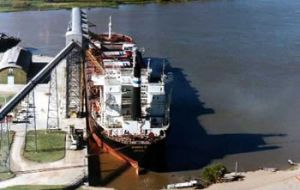 Argentina's 2011/2012 soy harvest is seen at 49.5 million tons, down from 50.3 million tons last season, the Rosario Grains Exchange said in its monthly crop report on Friday.
Argentina is a global top soy meal and soy oil exporter and the No. 3 soybean supplier. The United States Department of Agriculture (USDA) sees this season's soy output at 52 million tons.
The exchange raised its estimate for this season's corn production to 26 million tons from 21.4 million tons in the previous season.
"Soy and corn crops are developing very well thanks to recent rains that are helping (farmers) both increase the planted area and maintain a good seeding pace," the report said.
Argentina is also the second-largest corn exporter after the United States but dryness earlier in the season delayed planting of the crop.
Agriculture Secretary Lorenzo Basso estimated in September that the corn crop would be a record of about 30 million tons, while the USDA estimates Argentina's 2011/12 harvest at 29.0 million tons.
Argentina is also major global wheat supplier. The exchange slightly cut its forecast for 2011/2012 wheat output to 12.4 million tons from 12.5 million tons seen previously.
The USDA also lowered its forecast for this season's Argentine wheat harvest this week to 13.0 million tons from 13.5 million tons seen previously.