Brazil's October consumer inflation down but still above target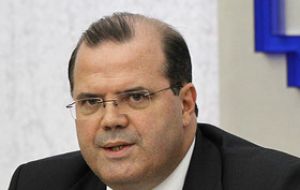 Consumer price increases slowed month-on-month in Brazil in October, according to the Brazilian Institute of Geography and Statistics, IBGE. The official IPCA consumer price index gained 0.43% in October compared with a 0.53% rise in September.
Annual inflation through October hit 6.97% and during the 12-month period ending in September reached 7.31%, while the government's target ceiling is 6.5%.
Under Brazil's inflation-targeting program, which has been in place since 1999, the country's central bank is charged with managing credit and interest rates in such a way that inflation remains within a range of 2.5% to 6.5%.
The main task of Brazil's central bank is to keep inflation within the target range. If inflation ends the calendar year above the range, then the central bank's president Alexandre Tombini is obliged to address an open letter to Finance Minister Guido Mantega, giving reasons for failing to meet the target and outlining measures designed to bring inflation within target as quickly as possible.
In recent comments, Tombini expressed optimism that the 2011 target could still be met.
"Inflation is now clearly on a downward course. It will converge toward 4.5% in 2012," said Tombini in a speech on Oct. 31