Putin running for president praises Berlusconi 17-year tenure as a "stability factor"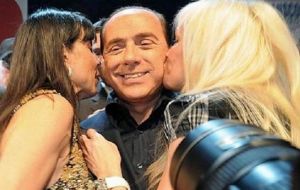 Russian Prime Minister Vladimir Putin praised outgoing fellow political veteran Silvio Berlusconi and defended his own decision to remain in power for years to come in front of an audience of foreign experts.
A group of political scholars known as the Valdai Club presented Putin with a report warning him his way of ruling Russia had almost run its course and could not go on forever.
Putin told the group: "Of course our system is not perfect," adding he was aware of the shortcomings of his dual rule with President Dmitry Medvedev popularly dubbed a "tandem".
"But I do not know any system of governance which is perfect" added Putin, who announced the decision to seek his third term as president in September.
Putin took a dig at Britain's political system where his "good friend" Prime Minister Tony Blair was replaced as the head of government by Gordon Brown "without any election, as a result of manipulations inside the party."
"We are not acting like this, we are going to election," Putin told the scholars who were treated to shots of vodka and Italian wine at a luxury restaurant in a horse riding club outside Moscow.
"We are going to the election and offering our people the chance to reach their verdict on what we have done in the past and on our program for the future development," Putin said, defending his past track record as president and prime minister.
Putin, who previously evoked long-serving historical figures such as US President Franklin Roosevelt to justify his comeback, praised Italy's outgoing Prime Minister Silvio Berlusconi, calling his 17-year tenure "a stability factor".
"I have a very warm personal relationship with Berlusconi. I believe that he is one of the greatest European politicians" Putin said, adding that the Italian exposed his sex life "consciously, in order to attract attention".
Putin recalled his private conversations with the former German Chancellor Gerhard Schroeder, another European ally, who told him that Berlusconi was a "good man" but "not a real politician".
"Maybe his is not a real politician but look now where he is and where you are," Putin said he told Schroeder on several occasions after the German lost the election in 2005 and had to step down.
Speaking for the Valdai Club, Timothy Colton from Harvard University told Putin: "The current political system in Russia, which formed over the last 10-12 years, has exhausted its capacity or is close to it."
Putin remains Russia's most popular politician and is an ultimate decision maker despite stepping down as president in 2008 and formally serving as a second in command to his anointed successor Medvedev.