"Super" Mario Monti to the rescue of foundering Italy (and the Euro)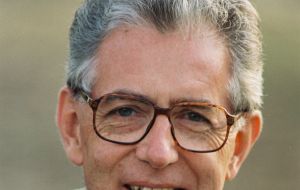 The man who is ready to succeed outgoing Silvio Berlusconi as Italy's next Prime Minister is a well respected economist and tough negotiator "Super" Mario Monti.
Well connected to the upper ranks of the EU machine Monti is head of a university with the reputation for producing Italy's finest thinkers. He has been seen as rather above politics, but he will most probably be the man to take the reins of the foundering Italian economy.
Mario Monti was born in 1943, in the northern Italian town of Varese. He studied economics at Bocconi University in Milan and Yale in the United States. At Yale, he studied under James Tobin, inventor of the "Tobin tax", also called the "Robin Hood tax" - a proposal to tax financial transactions so as to limit speculation.
He taught economics at the University of Turin for 15 years before returning to Bocconi as rector in 1984. In 1994, he was appointed the EU commissioner for the internal market and services. He was nominated by Silvio Berlusconi, then - as now - Italy's prime minister.
But it was in his second term at the commission (1999-2004) that he earned the nickname "Super Mario" for the way he took on vested interests. He blocked a merger between General Electric and Honeywell, and battled Germany's powerful regional banks.
He also launched an anti-trust case against Microsoft for its bundling of audio and video software. In 2004, the EU fined Microsoft 497m Euros for what it said was abuse of its dominant market position.
For Mr Monti's second term in Brussels, he had been nominated by centre-left Italian Prime Minister Massimo D'Alema. But by 2004, Mr Berlusconi was back in power. He refused to back the soft-spoken economist from Lombardy for a further stint.
In 2005, Mr Monti founded the Brussels-based Brueghel think tank, specialising in economic policy. He returned to Bocconi University, this time as president. Now aged 68, Mr Monti was recently commissioned by Brussels to write a report on the future of the EU single market.
"He has experience and, Europe-wide, is one of the most highly esteemed Italian personalities" Gianfranco Fini, speaker of the lower chamber of the Italian parliament, has said of him.
In 2010, Monti was one of the founders of a European federalist initiative known as the Spinelli Group, which seeks to promote greater EU integration. Other members include former commission president Jacques Delors, former German foreign minister Joschka Fischer and Green MEP Daniel Cohn-Bendit.
On 11 November, Mario Monti was sworn in as a senator for life in the Italian parliament. It is widely expected that Italian President Giorgio Napolitano will ask Mr Monti to form a government, taking over from Mr Berlusconi.