Merkel calls for EU political union as long term solution to Euro crisis
Monday, November 14th 2011 - 20:58 UTC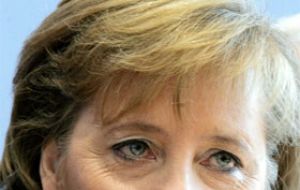 As technocrats leaders in Italy and Greece rush to form governments as they sought to limit the damage from the Euro zone debt crisis – and the Euro climbed on relief that a key Italian bond auction drew decent demand from investors – German chancellor Angela Merkel stepped up to defend Europe's common currency.
"The Euro is more than a currency," said Merkel during a Christian Democratic Union (CDU) party summit in Lipzig. The chancellor seeks at the two-day gathering to rally her conservatives amid mounting ire at Germany having to stump up the lion's share in fighting Europe's debt crisis.
"If the Euro falls, Europe falls," she said. And added: "We want to stop that from happening and we will."
Merkel also said that Europe must move step-by-step towards political union, calling the Euro zone debt crisis the continent's "toughest hour since World War Two".
In a one-hour address to thousands of delegates from CDU, Merkel offered no new ideas for resolving the crisis that has forced bailouts of Greece, Ireland and Portugal, and has stirred worries about the survival of the 17-state currency zone.
But she made clear that Germany will have to make more sacrifices.
"The challenge of our generation is to finish what we started in Europe, and that is to bring about, step by step, a political union," Merkel told the party congress. "The hard part is that this crisis was not created overnight, it is the result of decades of mistakes, and we can't solve it in one fell swoop. We have a long, tough road ahead of us," she said.