Meryl (Lady Thatcher) unveils "The Iron Lady" poster before Parliament
Monday, November 14th 2011 - 18:29 UTC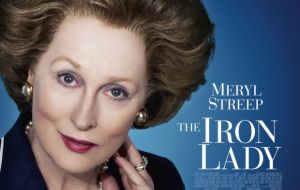 US actress Meryl Streep gave a sneak peek Monday at what she will look like as." The award-winning star unveiled the official poster for the upcoming film in London before Parliament House.
Just from the promo shot, Streep bears a strong resemblance to Britain's first female Prime Minister Margaret Thatcher who is credited with turning around the UK economy and major international feats such as the Falklands conflict and the fall of the Iron Wall.
The two time Oscar winning Streep visited Parliament to research the role of Thatcher, who governed Britain from 1979 to 1990.
The 62-year-old actress told the Daily Mail "It took a lot out of me, but it was a privilege to play her, it really was".
"I still don't agree with a lot of her policies," added Streep. "But I feel she believed in them and that they came from an honest conviction, and that she wasn't a cosmetic politician just changing make-up to suit the times. She stuck to what she believed in, and that's a hard thing to do."
"It was one of those rare films, where I was grateful to be an actor and grateful for the privilege of being able to look at a life deeply with empathy".
Thatcher's family has expressed fears the film will be critical, but director 'Mamma Mia!' Phyllida Lloyd says it is not ideological.
Lloyd said that "when they see Meryl's performance they will understand how much care and attention to Lady Thatcher's dignity she's given it."
However the film has already divided audiences over whether an American actress should portray such an iconic British figure.
"The Iron Lady", which hits British cinemas on Jan. 6, depicts an ageing Thatcher looking back on the highs and lows of her career and the personal price she paid for power.
The film is likely to be a major media talking point over the coming weeks in Britain, where former conservative leader Thatcher is still a divisive figure both revered and reviled by the public.