Flights disruptions and delays continue in Buenos Aires main airports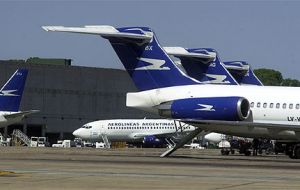 Cancellations and more delays persisted Tuesday at Buenos Aires main airports as Aerolineas Argentinas flights suffered further setbacks to the service. The administrators of metropolitan Aeroparque and Ezeiza international airport, Aeropuertos Argentinas 2000 said that flights "were resuming, albeit slowly".
Following the Argentine government's decision on Monday to let the Air Force retain control over civic aviation operations, the re-nationalized flag carrier flight schedules had begun to normalize, after suffering days of delays and cancellations due to a union conflict.
However hopes of a fully functioning schedule Tuesday did not fully materialize leaving passengers waiting in long queues.
The improvements in the service had begun after Transport Secretary, Juan Pablo Schiavi, informed that the union conflict had cost the company "losses of 20 million dollars".
The head of the Technical Aeronautical Staff Association (APTA) union, Ricardo Cirielli, sustained that the strikes were carried out due to the airline not adhering to security measures.
On Monday during a ceremony being held in Ushuaia, Argentine President Cristina Fernández insisted union workers "not boycott" the country.
"The union leaders need to understand that there is no better way to defend workers than to look after the source of labour," sustained the head of state.
Early Tuesday the assistant secretary from the Aeronautical Staff Association (APA), Rafael Mella, sustained that the unionists should "take a responsible approach" to the situation.
Mella was referring to the conflict that has been affecting the Technical Aeronautical Staff Association, run by Ricardo Cirielli, which has had an ongoing conflict with Aerolíneas Argentinas for the past few days.
Meanwhile, national lawmaker, Ariel Basteiro, former secretary general of the APA, criticized the "cover-up strikes" held by Cirielli, stating that they were "not linked with wage demands.