President Mujica in Mexico to boost trade and relations with G20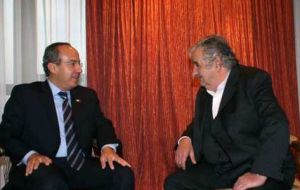 Uruguayan president Jose Mujica arrived Tuesday in Mexico for a two day visit to promote bilateral trade and to address with his host Felipe Calderon issues related to recent discrepancies with the G20 that described Uruguay and Panama as "fiscal havens".
Following the recent summit in Cannes, President Calderon is for the next twelve months head of G20 and Uruguay currently holds the rotating chair of Mercosur. (Mexico together with Brazil and Argentina represent Latin America at the Group of 20 world leading economies on a regional basis).
Mujica and his eight-person delegation landed on Tuesday in the city of Guadalajara in a Mexican Air Force aircraft which picked them up in Panama, courtesy of President Calderon.
In his first day Mujica is scheduled to meet with the Uruguayan colony residents in Mexico, most of which were forced to leave the country when Uruguay was ruled by a military regime.
Mexico has a long tradition of receiving political exiles (even Trotsky took refuge in the thirties), and during the "lead years" in the sixties and seventies in the Southern cone of South America, thousands flocked to the North American country. Although it must also be said that Mexico's one party democracy at the time kept close surveillance of the exiles and regular intelligence reports of their 'political' activities were relayed to their countries of origin.
Nevertheless President Mujica whenever overseas has made it a point of meeting with the local Uruguayan communities and to thank local authorities for having received exiles or political dissidents during non democratic periods.
On Wednesday Mujica and Calderon are scheduled to hold a private meeting on political issues before the two delegations begins analyzing bilateral trade and how to promote investments. The two countries have a free trade accord dating back to 2004 which has been successful in boosting commerce at an annual sustained rate of 10%.
"We want to strengthen good diplomatic and political relations with Mexico and to further expand the trade space", said a member from the Mujica delegation who when asked about the G20 'fiscal haven' controversy admitted circumstances might open a window to address the issue.
However, "we must remember the trip has long been programmed, has an agreed agenda and the G20 dispute only surfaced two weeks ago".
French president Nicholas Sarkozy as previous G20 chief pinpointed Uruguay and Panama in a list of 'fiscal havens' for allegedly laundering money and protecting foreign monies that elude taxes in their countries of origin.
Uruguay strongly protested the claim recalling Uruguay has tax information data exchange agreements with several countries including Germany, France's main trade partner and is in a similar process with Paris.
Uruguay exported 220 million dollars to Mexico last year, a third of which flavours for soft drinks, another third dairy produce and the rest rice and other food products. Mexico sold cars (30.5%), TV monitors and other electronics (15.3%) and the rest other manufactured goods totalling 180 million dollars.
Last September Mercosur members (Argentina, Brail, Paraguay and Uruguay) signed with Mexico an agreement in Montevideo to liberalize car industry trade which has an annual turnover of more than 25 billion dollars.
Uruguayan ambassador in Mexico, Cassio Luiselli said that Asian countries are very strong in the auto industry and it was "very positive that Latin American countries identify and deepen the concept of a 'strategic area' so at to continue growing and advancing together".
President Mujica is also scheduled to meet with Jalisco state governor Emilio Gonzalez Marquez to which the city of Guadalajara belongs and the city mayor Jorge Sandoval Díaz. Plans are for Mujica to visit the Jalisco Technology Institute, which is considered a leader in information industries in the region, and will also address the Guadalajara Chamber of Commerce.
The Uruguayan president will be flying from Mexico Friday but will be calling at Salvador Bahia in northeast Brazil where he will attend the celebrations for the Afro-descendents International Year.