Uruguay puts a 65 dollar per MW-hour cap for developing wind power projects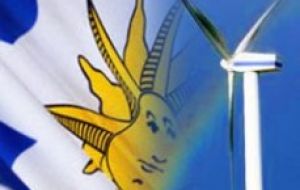 Uruguay won't accept bids above 65 dollars a megawatt-hour from developers bidding to sell power from wind farms as concerns mount that rates have dropped too low.
Companies may submit bids Dec. 15 for projects totalling 450 megawatts of capacity, the country's power utility monopoly UTE said on its website.
Uruguay wants developers to build as many wind farms as they can after slowing demand growth for turbines in the US and Europe drove down prices, according to Pablo Caldeiro, an engineer from the Ministry of Industry, Energy and Mining.
Prices for wind turbines have dropped 24% to about 920,000 Euros (1.25 million dollars) a megawatt from 2008.
Rates for wind-power fell as low as 63 dollars a megawatt-hour in Uruguay's previous auction for projects with 150 megawatts of capacity, the Ministry of Industry, Energy and Mining said Aug. 23 on its website.
Wind developers in Brazil agreed to deliver electricity at an average price of 99.54 Reais (56.51 dollars) a megawatt-hour in a government-organized auction August 18, the lowest nationwide rate for wind energy, according to New Energy Finance.