Argentina's main airports activity back to normal, except for Aerolineas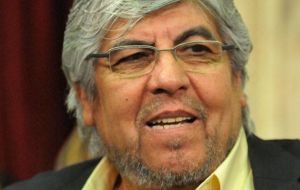 Argentina's flag carrier Aerolíneas Argentinas flights were still backed up Wednesday morning, due the weekend's union conflicts, in addition to the volcanic ash cloud spewed by Chile's Pueyhue volcano last week.
The delays were affecting both Aeroparque Metropolitan airport and Ezeiza international, but the airports administrators, Aeropuertos Argentinas 2000 said that all other airlines were operating with normality.
Although it seemed as though flight schedules were to normalize on Monday, following days of union conflict and problems presented by the volcanic ash cloud being blown in from the south, on Wednesday Aerolíneas flights, both domestic and international, were still suffering delays, leaving passengers stuck at Ezeiza and Aeroparque.
Other airlines however stated on Wednesday that their services were working as normal, while airport officials said there were currently no flight delays being caused by volcano ash coming from the Chilean volcano in the south.
Airline LAN however, issued a statement that told customers, 'although the service currently presents no setbacks,' they were 'monitoring the atmosphere and would be issuing updates via their website'.
Regarding the weekend conflict in Aerolineas Argentinas which caused cancellations and delays, the powerful organized labour confederation, CGT, said it was against the government's decision to call for the suspension of the Association of Aeronautical Staff's legal recognition, and urged both parts to "engage in talks in order to overcome the existing differences between the company's directors and workers".
In a press release signed by CGT leader Hugo Moyano, Julio Piumato and Juan Carlos Schmid, they assured that "it wasn't the right decision" and assured that "workers, and the aeronautical staff in particular were the ones who fought the most to defend Aerolíneas Argentinas when it was being drained by the neo-liberal governments of Menem and De la Rúa".
"That's why it's unthinkable that these workers, who fought from their union in defence of our national airline, are pretending to cause an irreparable damage that could potentially endanger its normal functioning. If there's any controversy between employees and the company's directors, they must be resolved through dialogue," the press release concluded.