China, Japan, Canada urge greater action from the EU on the Euro crisis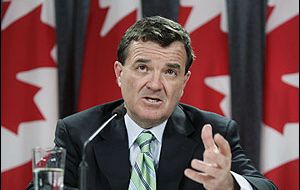 Non-European policymakers joined US President Barak Obama in urging greater action from the European Union to deal with the two year old crisis, and came as equity markets fell in response to a sell-off in euro zone bond markets.
President Obama visiting Australia said that until a concrete plan is in place and structure that sends a clear signal to the markets that Europe is standing behind the Euro and will do what it takes, "we are going to continue to see the kinds of market turmoil we saw".
Canada's Finance Minister Jim Flaherty, speaking earlier from Japan, urged European leaders to put "meat on the bones" of plans to stem the contagion.
"Until European countries build firewalls for their financial system, I think we will continue to see market volatility," he said. "Some of us are frustrated by the failure of clear and decisive action in Europe."
China's central bank also voiced its concern, saying in its quarterly monetary policy report posted on its website that the European debt crisis was a prime risk to the global economy.
"The sovereign debt problem in the Euro zone will cause continuous turbulence in financial markets, and, if the crisis spreads to core member countries, it may cause global systematic risks," the report said.
Bank of Japan Governor Masaaki Shirakawa told a news conference there were signs the European crisis was starting to affect emerging economies through trade and other channels.
"Dollar funding at European banks has also worsened and there are signs of dollar assets being squeezed or so-called de-leveraging,"
Meanwhile the European Central Bank eased some of the pressure on Europe's government debt market, pushing Italy's borrowing costs back below the 7% level viewed as unsustainable by buying up its bonds.