ECB moves in to stop sell-off of EU bonds; Obama calls for stronger political will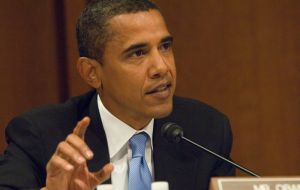 The European Central Bank stepped in on Wednesday to stem an accelerating sell-off of Euro zone government bonds, traders said, after the United States called for more decisive action to halt a spreading sovereign debt crisis.
European shares and the bonds of weaker Euro zone countries recovered initially on the move on the day Italian Prime Minister-designate Mario Monti was to name a national unity government to implement long delayed structural economic reforms.
But ECB policymakers continue to reject growing international calls to intervene decisively as Europe's lender of last resort, stressing it is up to governments to resolve the debt crisis through austerity measures and reforms.
But there was no sign that the bond-buying signalled a change in the ECB's policy of limited, stop-go purchases to stabilise markets temporarily while maintaining pressure on governments.
Speaking from Australia on an official visit, US President Barack Obama said he was deeply concerned about the continued Euro zone crisis, blaming it on a lack of political will, and that market turmoil would continue until Europe has a concrete plan to deal with its debt woes.
Obama praised French President Nicolas Sarkozy and German Chancellor Angela Merkel, along with Greece and Italy and their moves to form unity governments to implement reforms, but he was critical of wider Europe.
"The problem right now is a problem of political will. It is not a technical problem," Obama told a joint news conference with Australian Prime Minister Julia Gillard in Canberra.
"I think there is a genuine desire on the part of leaders like President Sarkozy and Chancellor Merkel, but they've got a complicated political structure," said Obama.
"We saw some progress with Italy and Greece putting forward unity governments that can implement some significant reforms. But at this point the larger Europe community has to stand behind the European project."