Italian cabinet, totally technocrat, sworn in; parties promise support for reforms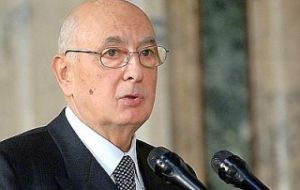 Mario Monti formed a new technocrat government in Italy Wednesday to tackle a major debt crisis threatening the entire Euro zone and said he hoped it would placate financial markets.
President Giorgio Napolitano swore in a 16-member government, including three women, at his palace Wednesday afternoon, ending a chaotic political crisis that has placed Italy at the centre of the Euro zone's burgeoning problems.
The government now has the urgent task of tackling a broader crisis that has pushed Italy's borrowing costs to untenable levels and brought it to the brink of economic disaster.
Speaking after presenting his cabinet to the president earlier, Monti said: "We feel sure of what we have done and we have received many signals of encouragement from our European partners and the international world.
"All this will, I trust, translate into a calming of that part of the market difficulty which concerns our country."
The appointment of the widely respected former European Commissioner to replace flamboyant media magnate Silvio Berlusconi has brought relief in Euro zone capitals.
Germany Chancellor Angela Merkel values Monti very highly, her spokesman said in Berlin, adding that she was ready to meet him.
Monti, a respected economics professor and former European commissioner, said he would take the crucial Economy portfolio himself.
Corrado Passera, chief executive of Italy's biggest retail bank Intesa Sanpaolo, was given the infrastructure and industry portfolio.
After disputes among political parties which complicated Monti's task, the new government contained no politicians, as he was reported in the media to have wanted.
"The absence of political personalities in the government will help rather than hinder a solid base of support for the government in parliament and in the political parties because it will remove one ground for disagreement."
He said he would present an austerity program to the upper house, the Senate, Thursday. This is expected to be followed by a confidence vote in both houses of parliament.
The new government was formed in less than three days in a scramble to face the crisis after market confidence in Italy collapsed.
It is expected to have an overwhelming majority in both houses, based on wide external support promised by most of the political parties except the devolutionist Northern League, a partner in Berlusconi's outgoing government.
Crucial to Monti's success was the backing of the PDL party of outgoing PM Berlusconi, who was forced to step down Saturday by the rapidly worsening crisis.
President Napolitano has called for an extraordinary national effort to win back the confidence of markets, noting that Italy has to refinance about 200 billion Euros of bonds by the end of April.