Unhate campaign launches a round of kissing among world leaders
Wednesday, November 16th 2011 - 21:01 UTC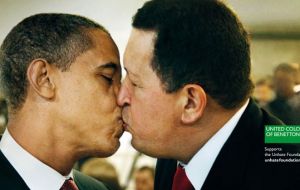 Benetton, the Italian family-controlled clothing empire, looks set to raise a few eyebrows, as it unveiled a new worldwide communication "Unhate" campaign that features political and faith leaders like Pope Benedict XVI, German chancellor Angela Merkel, French president Nicolas Sarkozy, Barack Obama and Hugo Chavez kissing.
The campaign created by the newly formed 'Unhate' Foundation supported by the Benetton group, shows (photoshopped) political and religious leaders sharing a kiss to promote the understanding between peoples, faiths and cultures.
Leaders who normally are on very different positions, such as the presidents of South and North Korea and Palestinian president Mahmoud Abbas and Israeli prime minister Benjamin Netanyahu, are seen kissing.
The campaign was launched Wednesday in Paris but some of the images have already appeared in public places in Milan, Rome and Tel Aviv.
A billboard showing Pope Benedict XVI kissing Ahmed Mohamed el-Tayeb, Imam of the Al-Azhar mosque in Cairo, for example, has been hung from Ponte Sant Angelo in Rome, a few meters away from Saint Peter square and the Vatican.
"These are symbolic images of reconciliation - with a touch of ironic hope and constructive provocation - to stimulate reflection on how politics, faith and ideas, even when they are divergent and mutually opposed, must still lead to dialogue and mediation," the company said in a statement.
Benetton is famous for its controversial advertising campaigns. Between 1982 and 2000, Italian photographer Oliviero Toscani shot several campaigns to fight racism, the death penalty and raise awareness about AIDS.
One of these campaigns, later censored, showed a nun and a priest kissing.
"While global love is still a utopia, albeit a worthy one, the invitation not to hate, to combat the culture of hatred, is an ambitious but realistic objective," Alessandro Benetton, executive deputy chairman of Benetton Group, said in a statement.
"[The campaign] fits perfectly with the values and history of Benetton, which chooses social issues and actively promotes humanitarian causes that could not otherwise have been communicated on a global scale," he added.
Benetton was established in 1965 by Alessandro's father Luciano and is still 70% owned by the Benetton family through their holding company Edizione.