G20 president says Uruguay is no 'fiscal haven' and praises transparency commitment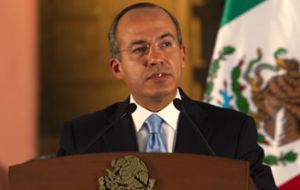 Uruguay received a huge political boost from Mexico (the same it was denied from its Mercosur partners under influence from Argentina) in its dispute with the recent G20 summit which through spokesperson French president Nicholas Sarkozy described Uruguay as a 'fiscal haven'.
During a press conference on Wednesday President Felipe Calderón, next to his visiting peer Jose Mujica, said it was 'most unfair' from G20 to have named Uruguay in the list of countries that do not comply with transparency and exchange of fiscal data, "on the contrary I commend and congratulate Uruguay for its efforts in reaching bilateral agreements on the issue including one with Mexico".
At the recent G20 summit in Cannes, Sarkozy as host and president of the meeting named a list of countries which he described a "fiscal havens" including Uruguay.
Following Uruguay's strong protest plus the fact it has a tax data exchange agreement with Germany, France's main trade partner and is in the process of subscribing one with Paris, the French government back-stepped saying "it was not a Paris position but rather President Sarkozy was the spokesperson for the group".
Uruguay never accepted what it considered a 'feeble' excuse.
But in Mexico President Mujica found the support that even Mercosur had denied given the opposition of Argentina the main sponsor, it now has surfaced, of including Uruguay in the 'infamous' list of fiscal havens exposed to expulsion from the international community".
Furthermore Calderón said he would like to add a few clarifications as to what happened during the last G20 summit of industrialized countries and some emerging economies in France.
"As you are aware for the first time a developing country is president of G20 and that honour has fallen on Mexico. Said this, I want to make very clear that the issue of countries commitment to transparency was addressed at G20 and, I underline, the Global Forum on Transparency and Exchange of Fiscal information is an entirely neutral entity, absolutely technical which for a long time now has not been using the expression 'fiscal havens', as at some moment its was unfairly applied to Uruguay".
The current G20 president added, "I want to publicly acknowledge and congratulate the enormous effort that Uruguay has been displaying, not only subscribing those commitments, but also because it has advanced to 10 out of twelve of that major effort".
Likewise the permanent secretary of the Global forum on Transparency and fiscal information exchange, which is monitored by the Organization for Economic Cooperation and Development, OECD, Pascal Saint-Amans publicly, stated that "Argentina was behind the initiative to include Uruguay in the list of fiscal sinners".
At the time Sarkozy's statements were rejected by the entire Uruguayan political spectrum and there was immediate suspicion of what roles Argentina and Brazil (two of three Latam G20 members) had played in the incident.
Presidents Cristina Fernandez and Dilma Rousseff attended the summit.
At first the administration of President Mujica discarded the possibility of an 'Argentine hand' even when Foreign Secretary Hector Timerman revealed that Argentina made a special request to G20 for the control of 'fiscal hideouts' in the world.
For years Argentina has wanted to have access to information on the assets and bank deposits of Argentines in neighbouring Uruguay and has called on Uruguay to sign a fiscal data exchange commitment.
However since Argentina refuses to sign a complementary agreement on double taxing, Uruguay has been reluctant to exchange information.
The Uruguayan government tried, as a first strong diplomatic reaction to Sarkozy's words to promote a joint statement from Mercosur but to no avail, because Argentina wanted more time 'to analyze the whole issue'.
Uruguayan Foreign Affairs minister Luis Almagro downplayed the frustrated attempt saying Uruguay had had no statement initiative at Mercosur level and would not further that venue "since it was regarded as a bilateral issue with France".
Nevertheless Almagro had to admit that the Brazilian Deputy Foreign Affairs minister had mentioned to President Mujica and to him that "Brazil supports Uruguay" in the dispute.