Italian cabinet receives ample Senate confidence vote; Monti outlines program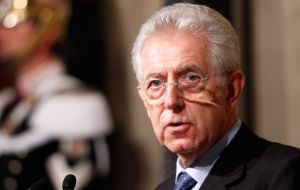 New Italian PM Mario Monti's government of technocrats passed its first test, winning a vote of confidence in the senate late Thursday. As expected, the government won the vote in the upper house of parliament easily, by 281 votes to 25.
The vote was held after Mr Monti had outlined his government's program of reforms to tackle the country's economic problems and cut its debt. He faces a second vote in the lower house or Chamber of Deputies on Friday.
Only one party, the right-wing Northern League, says it will withhold its support though former Prime Minister Silvio Berlusconi has reportedly said he could "pull the plug" on the government if he does not like what it does.
The former EU commissioner said austerity measures would be balanced by economic growth and social fairness.
"The future of the Euro also depends on what Italy will do in the next few weeks" he told senators in Rome.
Meanwhile, thousands of students staged protests in several Italian cities against PM Monti's government, which is made up of business leaders and other experts.
"The government recognises that it was formed to resolve a serious emergency in a constructive and united spirit" Monti told senators in a 45-minute address.
"I would like to use the following expression: a government with a national commitment. Only if we can avoid being seen as the weak link of Europe can we contribute to European reforms."
PM Monti said he intended to overhaul the pension system which he said "has large disparities in treatment and unjustified privileges for certain sectors".
He also said there would be a crackdown on tax evasion and changes to the taxation system. Monti said the absence of a locally gathered property tax on houses classed as first homes was an Italian "anomaly". The tax - known in Italy as the ICI tax - was abolished under Mr Berlusconi.
He added that his government would introduce incentives for companies to employ more women and young people. "If we fail, if we don't carry out the necessary reforms, we will also be subjected to much harsher conditions".
He said economic growth would also involve a crackdown on the mafia.
"A plan to re-launch growth cannot preclude a determined effort against organised crime and all the mafia... that strikes at the economic interests of these organisations and their incursions into the legal economy."
The "absence of growth" had "cancelled out sacrifices" by Italians, Mr Monti argued, promising to respect Italy's timetable to balance its budget by 2013 and reduce its debt.
In another development on Thursday, the IMF said its monitors would travel to Italy in late November to evaluate the country's economy. Spokesman David Hawley said discussions would not include the European Commission or the European Central Bank.