Paraguay's wheat exports doubled in a year to over a million tons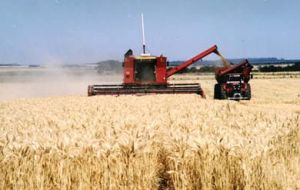 Paraguay's wheat exports have doubled in 2011 compared to the previous year and has increased 33 fold in the last decade, and this has been based on a government-private effort of investing in scientific research and technology.
"When the 2010 wheat season was closed last September 30, records show that exports doubled from 537.114 tons to 1.112.377 tons which represents 107% increase" said agronomist Sonia Tomassone during a wheat congress in Asuncion.
This in money terms means that income has jumped 33 fold in the last decade from 4.2 million dollars in 2001 to 136.9 million dollars in the 2010 season.
Furthermore Paraguayan wheat is making its own name in world markets because of its high protein content (13%) and its excellent bakery conditions, said Dr. Mohan Kohli, an expert in wheat quality and grading.
"This is clear evidence of the success the wheat improvement program has had" said Sonia Tomassone which means that "for every dollar invested in research we can have a return of up to 1.000 dollars".
The wheat improvement program is jointly supported by the Paraguayan Chamber of Grains and Oilseed exporters, the Ministry of Agriculture and Livestock and the Agriculture Biotechnology Institute.
As to the challenges Dr. Kohli recommended the need to continue improving wheat research, bringing in new scientists because in Africa for example, there are some wheat diseases to which the Paraguay strains are "100% susceptible" and could erase crops.
"We must continue to invest in agriculture and technology research so we can come up with different strains that are in demand worldwide" said Kohli who pointed out that "climate change will have a great impact on wheat production globally".
Agronomist Tomassone said that Paraguay must ensure that wheat is an commercially sustainable crop both for fodder and for industry, adding that is was essential to find alternative markets to Brazil, "which currently absorbs most of landlocked Paraguay's wheat".