Brazilian leader recommends President Rousseff to "purge" her cabinet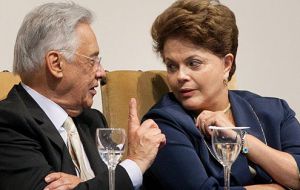 Former Brazilian president Fernando Henrique Cardoso recommended President Dilma Rousseff a purge of her cabinet which faces yet another alleged corruption case: the minister of Labour, the fifth since she took office last January.

"I expect President Dilma further advances in her struggle against corruption but for that she needs to alter the different (12) parties' support for the ruling coalition", said Cardoso head of the Brazilian Social democrats, the main opposition party.

"Can she do it? That's the big question" pointed out the former president who has called on Ms Rousseff to "go to the bone" in her "ethical cleansing campaign" and dump all those inherited from the administration of Lula da Silva, who was Brazilian president from 2003 to 2010.

President Rousseff has already got rid of six ministers between June and October most of them recommended by Lula da Silva and several were also ministers of his cabinet.

All suspicions are now set the Labour minister Carlos Lupi who had been in the job since Lula da Silva's time, and is accused of collecting bribes, funds which he used to prop his Democratic Workers party.

The head of the opposition Social democrats in the Senate and the Lower House have demanded Lupi resigns to his post who has been summoned to Congress to explain alleged lies he told members of the House a week ago when questioned.

Cardoso condemned what he described as the 'prevailing attitude' in government which considers 'natural' the existence of corruption, and therefore can't be corrected.

Lupi is scheduled to be questioned in the Senate regarding his statements to the House while President Rousseff is considering whether to sack him or not.