Euro confidence crisis has several countries under siege
Friday, November 18th 2011 - 05:38 UTC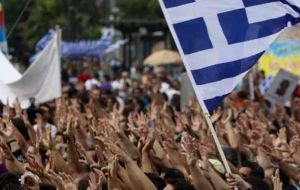 Greek police clashed with anti-austerity protesters and Italy announced sweeping reforms in response to a European debt crisis that on Thursday pushed borrowing costs for France and Spain sharply higher.
More than 30,000 Greeks took to the streets of Athens in a protest rally that marked the first public test for a new national unity government that must impose painful spending cuts and tax rises if the country is to escape bankruptcy.
Greek police fired tear gas against black-clad youths as protest marchers beat drums, waved red flags and shouted: "EU, IMF out!"
The Spanish government was forced to pay the highest borrowing costs since 1997 at a sale of 10-year bonds, with yields a steep 1.5 points above the average paid at similar tenders this year, drawing descriptions from the market ranging from "pretty awful" to "dreadful."
The Euro fell in response. Paris fared a little better, but again had to pay markedly more to shift nearly 7 billion Euros of government paper. Fears that the Euro zone's second largest economy is getting sucked into the debt maelstrom have taken the two-year crisis to a new level this week.
Ireland, which has been bailed out and gained plaudits for its austerity drive, will also be forced to do more. Dublin will increase its top rate of sales tax by two percent in next month's budget, documents showed.
But no amount of austerity in Greece, Italy, Spain, Ireland and France is likely to convince the markets without some dramatic action in the shorter term, probably involving the European Central Bank.