"Gold rush" in Brazil which has awarded 1.270 exploration licences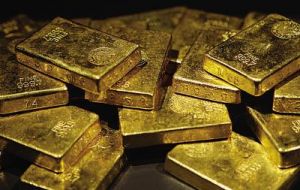 Private firms that invest in gold mining in Brazil will be pouring an estimated 2.4 billion dollars over the next four years, O Globo newspaper reported Sunday, citing official figures.
This is three times the earlier forecasts for the period and could be a major factor in doubling the country's production of gold, which currently stands at 62 tons per year.
The figure places Brazil in 13th place among gold mining countries, well below the top-ranked countries such as China (341 tons per year), Australia (259 tons), United States (240 tons) and South Africa (192 tons).
The Brazilian National Mineral Production Department has just granted 1.270 permits to mining companies to prospect for gold and is analyzing another 1.173 applications, O'Globo said, adding that the increase in permit requests is like "a new gold rush".
Brazil currently has 2.819 legal and active gold mines, according to O Globo even when most production is concentrated in just a few mines operated by foreign mining firms.
The largest gold mine in the country is located in Paracatu, a town in the central state of Minas Gerais, and it is run by Canada's Kinross.
Over the past five years production has tripled to 15 tons per year, a feat that has demanded a great technological effort because Paracatu is one of the mines with the lowest purity index of the precious metal, just 0.4 grams of gold per ton of rock.
Brazil is only operating at 12% of its gold production capacity, which could reach 503 tons per year if the country's proven reserves are taken into account, according to O Globo.