Paraguayan lawmakers accuse Brazil of 'provocative military intimidation'
Monday, November 21st 2011 - 09:56 UTC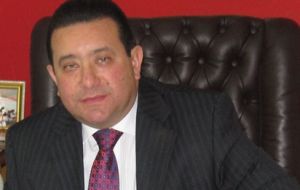 Paraguayan members from the Mercosur Parliament, Parlasur made a public statement to complain the 'intimidating Brazilian military display' with armoured vehicles and heavy equipment along the border particularly across from the Ciudad del Este which is 'contrary to international agreements and the Mercosur spirit'.
Mercosur has become "a serious conflict of interests almost a non-declared war, since that is the only way of describing based on facts, increasingly disturbing the irregular situation along the Brazilian Paraguayan border" reads the statement.
"This is more evident at the head of the 'Friendship bridge', a name increasingly distant from reality, where a huge display of the war machine with soldiers, armoured vehicles and heavy equipment, the federal government of Brazil has stationed in an area legally banned from any military occupation based on diplomatic treaties and accords which rule international relations among neighbouring independent nations", said Alfonso Gonzalez Nuñez, head of the Paraguayan delegation before the Parlasur.
This situation by Brazilian authorities can only be described as 'provocative and intimidatory'. Many times with the unjustified pretext of impeding the clandestine traffic of merchandise and drugs, which rarely is made effective given the obvious interests also existent on our neighbour's side", "Brazilian forces virtually take by assault the primary access to the bridge perpetrating as abusive violation of our sovereignty, as well as committing an attack on the Asuncion Treaty and other regulations which rule regional integration, but which each moment more constricted to simple documents on paper".
The delegation alleges the joint display of troops from the three services, Army, navy and Air Force is an offence for Paraguay. At first it was sporadic but now has become permanent and this impact negatively on the population on both sides of the 'friendship' bridge, besides scaring away tourism and limiting retailing in Ciudad de Este, which is the main activity of the city.
The population in this border area is suffering considerable and irreversible losses as a direct consequence of the "aggressive strategy from the inconsiderate partner which once again, prefers to disqualify principles of good neighbourhood and of respect for a genuine regional integration process".
Ciudad del Este in a border city which effectively lives from retailing most of which ends up smuggled into neighbouring Brazil including drugs and arms. Ahead of the 2014 World Cup, Brazil is not only cleaning the slums of Rio of drugs and organized crime, but is also cutting what it believes is one of the main sources of illegal arms and drugs.