US 'Patriotic millionaires' plead to Congress they want their taxes increased
Monday, November 21st 2011 - 07:36 UTC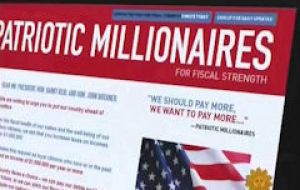 As has happened in several European countries, namely Germany, nearly 140 millionaires asked members of the United States Congress to increase their taxes for the sake of the nation.
The group, "Patriotic Millionaires for Fiscal Strength," made the request to the 12-member congressional "super committee," which is struggling to reach a bipartisan deal to cut the US budget deficit by at least 1.2 trillion dollars over the next decade in order to help put the nation on sound financial footing.
The millionaires want the "super committee" to raise taxes on people who earn more than 1 million dollars. But opposition Republicans, who control the House of Representatives, have said no, arguing that tax rises on the wealthy would kill jobs.
Entrepreneur and producer Charlie Fink, said he and other Patriotic Millionaires testified in a congressional hearing and visited the offices of 13 members of Congress last week, seven of whom are members of the super committee, to express their concern for the country's fiscal health.
One of the millionaires suggested that if Republican Senator Norquist wanted low taxes and less government, "Renounce your American citizenship and move to Somalia where they don't collect any tax".
Eric Schoenberg, chairman of CampusWorks, Inc, a higher education technology company, said if Congress ended Bush-era tax cuts it would affect him and his fellow millionaires in the group "about as much as a dead fly interrupts a picnic."
He told reporters, "There is a substantial number of people who feel like we do."
Patriotic Millionaire Robert Johnson, former chief economist of the U.S. Senate banking committee, said that "America is no longer based on markets and capitalism, instead our economy is designed as 'socialism for the rich' - it is designed to ensure that the wealthiest people take all of the gains, while regular Americans cover any losses."
"Patriotic Millionaires" was created a year ago during a failed bid to persuade Congress to end tax cuts for millionaires enacted under Republican former President George W. Bush.
Last November, the Patriotic Millionaires sent a letter to President Obama asking him to allow the Bush-era tax cuts to expire at the end of last year.
Between 1979 and 2007, incomes for the wealthiest 1% of Americans rose by 281%, according to patrioticmillionaires.org
The median wealth of a US Senator in 2009 was 2.38 million dollars.
The income gap between Americans with the highest incomes and those with lower incomes has been at the core of the Occupy Wall Street movement that started in New York on September 17. Protesters have criticized what they have characterized as the greed of the nation's wealthiest people.