Astori forecasts record tourist season in Uruguay but cautions about the US dollar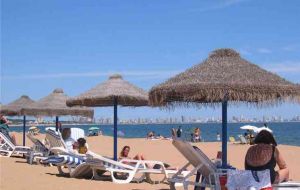 Uruguay's Vice president Danilo Astori downplayed the effects of Argentina's restrictive measures for the purchase of dollars and forecasted an excellent summer season with hundreds of thousands of Argentines tourists visiting Uruguay.
"I dare say we are going to have a record summer season, when we might hit a record two million visitors with a very significant income for the country, close to two billion dollars", said Astori.
Traditionally during summer months (December to April) Argentines take over Uruguayan beaches and resorts and represent the main influx for the local tourist industry.
However in spite of Astori's optimism, Tourism minister Hector Lescano admitted he would 'not be honest' if he said that the foreign exchange measures imposed by the government of President Cristina Fernandez "are not of concern".
For this reason Lescano announced he would be meeting with consultants to assess in which way Uruguay could mitigate the impact of the Argentine measures, if they persist, on the coming tourist season.
Astori, a former Economy minister also made mention to comments from Central bank president Mario Bergara who anticipated that consumer credit demand in Uruguay would begin "to cool" in coming months as happened during the previous 2008/09 global slowdown.
The Vice president also supported Bergara's recommendations for exporters to operate in the dollar's future market to seek short and long term cover from strong oscillations of the foreign exchange on both directions.
"Bergara has been insisting with this issue for a long time. He clearly considers this to be a healthy decision for entrepreneurs in both ways, since the value of the dollar could go up, but could also fall", warned Astori.
"Our businesspeople have always complained about the depreciation of the US dollar (against the Peso) which allegedly impacts on their export costs, but this never occurred", underlined Astori.
Finally regarding the 'tax haven' controversy with France and Argentina, Astori, downplayed the issue saying that the Uruguayan government expects, "the neighbouring country to have a coherent conduct".
"With Brazil and Paraguay we are quite advanced as regards to the exchange of fiscal information on a multilateral level in the framework of Mercosur and we hope we can continue to work along those lines", concluded the Uruguayan Vice-president.