Spanish president-elect Rajoy will only say he has mandate for austerity measures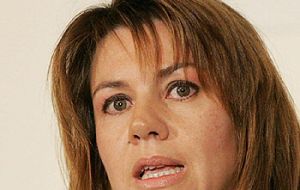 President-elect Mariano Rajoy resisted pressure on Monday to disclose his plans for rescuing Spain from economic disaster, keeping anxious Spaniards and impatient investors on edge following his election triumph.
The landslide victory of his conservative People's Party's (PP) at the polls on Sunday failed to lift investors, who were desperate for some detail on his strategy to prevent Spain going the way of other Euro zone members in taking an international bail-out.
Angry voters punished the outgoing Socialists for a crisis that has pushed unemployment in Spain to more than 22%, the highest in the European Union.
PP Secretary-General Dolores Cospedal said Rajoy, long known for his caution, would not name a cabinet or give details his strategy before he was sworn in just before Christmas, a delay imposed by the Spanish constitution.
Briefing reporters after a meeting of the party leadership, she said Rajoy had told them he believed he had a mandate to bring in austerity measures.
The sovereign debt problem needed a coordinated European effort but Spain would meet its obligations, she added.
"The first thing to tell Spaniards is the truth. Society is mature enough to be aware of absolutely everything that's happening" Cospedal quoted Rajoy as saying.
"Rajoy has expressed his wish for the swearing-in debate and the naming of the new government to take place as soon as possible in line with the law and we shall work for the new government to be in place before Christmas Day," she said.