Uruguay hopeful it can reach a tax-data exchange agreement with Argentina
Tuesday, November 22nd 2011 - 23:03 UTC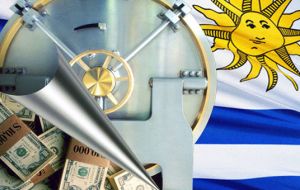 "Negotiations are on the right track" and should be concluded in coming months, said Uruguayan sources adding that one of the current difficulties is what will happen with the Argentine negotiating team, following December 10 when re-elected President Cristina Fernandez takes office for her second consecutive four year mandate.
The issue is being discussed by a team from the Uruguayan Ministry of Economy and the Argentine Administration of Tax Revenue, Afip. However no mention was said of an agreement to impede double taxing which is Uruguay's main concern and the cause for its reluctance to exchange information with Argentina.
If an agreement is finally reached, Uruguay would have given a further stride to have its name taken from the 'grey' list of countries which according to the Organization for Economic Cooperation and Development that are not 'fiscal havens' but still have to comply with several requirements before they are entirely de-listed.
Uruguay has so far signed ten out of twelve fiscal data exchange and double taxing agreements, including with Germany and Mexico. However this is not considered enough by the OECD Global Forum on Transparency and Exchange of Fiscal information since it insists neighbouring countries must be included among the agreements.
Uruguayan authorities are fearful of an agreement with the government of President Cristina Fernandez since Argentine assets in Uruguay are well above 4.5 billion dollars and Argentina is the country with which most financial operations are done.
In the recent G20 summit the French President Sarkozy as spokesperson for the group said that Uruguay (and Panama) belonged to a list of thirteen fiscal havens which will be isolated from the international community unless they abide by transparency rules.
Uruguay protested, recalled its ambassador in Paris and the French government said Sarkozy was only the spokesperson. However a repeat of events has shown the hand of Argentina behind the statement, which Argentine Foreign Affairs minister Hector Timerman described as 'fiscal holdouts'.