Berlin and Paris again clash over ECB; Euro confidence crisis on German shore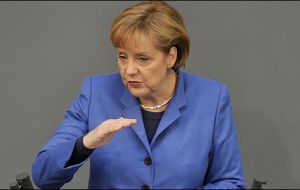 Germany and France again on Wednesday over whether the European Central Bank should take bolder steps to stem the Euro zone debt crisis, with Chancellor Angela Merkel issuing one of her starkest warnings yet against fiddling with the central bank's strict inflation-fighting mandate.
In a forceful speech to the Bundestag lower house of parliament, Merkel also hit back at proposals from the European Commission on joint Euro zone bond issuance, calling them "extraordinarily inappropriate".
One of Germany's worst bond sales since the launch of the Euro on Wednesday hinted that the two-year old crisis was beginning to threaten the bloc's paymaster, with the Bundesbank having to buy almost half of the 10-year bonds on offer.
But the public jousting underscores just how divided European leaders are on how to resolve turmoil which has accelerated to engulf big countries like Italy and Spain, and pushed out leaders in Rome and Athens.
"The European currency union is based, and this was a precondition for the creation of the union, on a central bank that has sole responsibility for monetary policy. This is its mandate. It is pursuing this. And we all need to be very careful about criticising the European Central Bank," Merkel said.
"I am firmly convinced that the mandate of the European Central Bank cannot, I repeat absolutely cannot, be changed."
Shortly before she began speaking, French Finance Minister Francois Baroin offered a polar opposite view on the ECB role, telling a conference in Paris that it was the central bank's responsibility to sustain activity in the currency bloc.
"The best response to avoid contagion in countries like Spain and Italy is, from the French viewpoint, an intervention (or) the possibility of intervention or announcement of intervention by a lender of last resort, which would be the European Central Bank," Baroin said.
Baroin pointed to market intervention by the US Federal Reserve, Swiss National Bank and Bank of England as a model for the ECB. But Merkel said it was impossible to compare the role of the ECB, which sets monetary policy for 17 countries, with those of national central banks.