WTO cuts world's export growth to 5.8%; warns on unilateral actions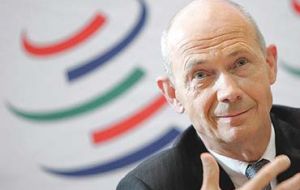 The World Trade Organization slashed its forecast for the world's export growth to just 5.8% for the year, down from 6.5%. WTO Director-General Pascal Lamy, in his annual report said that world trade has slowed "considerably" in recent months.
This comes just at a time when economies in the United States and Europe are also slowing.
Rich countries are expected to see exports grow by just 3.7%. Growth will be greater in developing countries at 8.5%. Both forecasts are down from earlier predictions from the trade watchdog.
Lamy said, "In a context of greater economic uncertainty and rising global risks, it is all the more important that the process of global trade opening continues."
He warned that "unilateral action to shield domestic industries will not solve global problems but might make things worse by triggering a spiral of tit-for-tat reactions in which every country will lose"
WTO members have been laboring for a decade over further trade liberalization in the Doha round of talks, with industrialized and developing nations failing to agree on the level of cuts on industrial goods tariffs and agriculture subsidies.