Brazil prepared to lower rates to prop the economy, said President Rousseff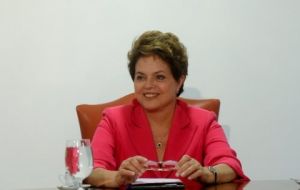 Markets expect Brazilian policy makers will accelerate the pace of interest rate cuts after President Dilma Rousseff said at an event in Brasilia on Wednesday that the country can and is prepared "to use monetary policy" to combat the effects of Europe's debt crisis.
The presidential announcement follows the Finance Ministry statement to Congress that the Brazilian economy expanded at the slowest pace in 10 quarters in the three months through September.
Traders are wagering policy makers will reduce the benchmark rate by as much as 75 basis points to 10.75% at their Nov. 30 meeting, followed by about another 100 basis points of cuts by April, futures show. Central bankers lowered the rate 50 basis points in each of the past two meetings.
Brazil's GDP grew 0.3% in the three months through September from the previous three months, according to an estimate given to Congress by the Finance Ministry in Brasilia. That's equivalent to annualized growth of 1.2%.
The government is focused on guaranteeing sustainable growth, Rousseff said on Wednesday during a ceremony in Brasilia.
"We are alert to guarantee that, facing the crisis, our country uses the old and tired Chinese metaphor that a crisis is also an opportunity" Rousseff said.
Brazil's October unemployment rate declined to a record low for the month as the labour market resisted the effects of a slowing economy. The jobless rate fell to 5.8%, the national statistics office said on Thursday in Rio de Janeiro.
Average real wages fell 0.3% from a year ago to Reais 1,612.70 (approx 868 US dollars) a month, the report showed.
The Real was trading at 1.8630 per dollar on Wednesday, early Thursday.