Mercosur calls on Doha Round for an end of all farm export incentives by 2013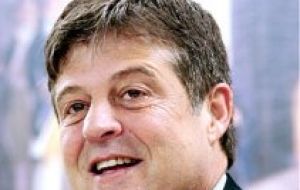 Agriculture ministers from Mercosur full members plus Chile and Bolivia, as members of the Agriculture Council of the South, CAS, urged a quick conclusion of the World Trade Organization Doha Round negotiations to help combat poverty and ensure food security.
Meeting in Brasilia for two days of discussions the ministers from the six countries said it was 'indispensable' to conclude the WTO agriculture negotiations and eliminate all form of subsidies and incentives to farm produce exports by 2013.
Brazilian minister Jorge Alberto Mendes Ribeiro acted as host and also attending were: Julian Dominguez from Argentina; Nemesia Achacollo from Bolivia; Jose Antonio Galilea from Chile plus Uruguay's deputy minister Daniel Garian and Paraguay's director general of the Ministry, Panfilo Ortiz.
CAS called for the "elimination of all forms of incentives and subsidies to agriculture produce exports by 2013 as well as the dismantling of other protectionist measures such as sanitary and technical barriers implemented arbitrarily".
The group appealed to participants of the WTO VIII Ministerial conference, scheduled for December 15/17 in Geneva to firmly advance with the Doha Round agriculture negotiations.
Another issue addressed by the CAS group is the coming UN Conference on Climate Change that will take place in Durban, South Africa between November 28 and December 9. The Agriculture ministers called for 'ambitious commitments' in the reduction of CO2 gas emissions so as not to endanger food security, which could be endangered by climate change.
They made special emphasis in that developed countries should provide additional financial funds to invest in actions to adapt to the new circumstances as well as pointing out that mitigation measures for agriculture should not cause negative impacts for international trade.
Another issue in the agenda was the recent outbreak of foot and mouth disease in Paraguay. CAS requested all member countries as well as international organizations to support the Paraguayan government with sufficient technical and financial resources as to definitively eradicate FMD from that region.
CAS also welcomed Paraguay's decision to receive a team of professionals and disease experts from the Southern Cone standing veterinary council, CVP, to help improve the sanitary status of the Paraguayan rodeo.
The FMD outbreak was located in an only farm where 825 head of cattle were sacrificed. Several independent and overseas tests of the FMD vaccine used in Paraguay showed the immunisation combination was of 'good quality' and that the origin of the outbreak was tracked to a "human error".
Nevertheless the CVP organization was furious with Paraguay for having delayed information on the outbreak and only having invited a team to the country two months later. Paraguay nevertheless complied with the OIE (FAO animal disease organization) protocol and reported the outbreak to the Paris based organization.