Argentina officially declares "Uruguay is no tax haven" and disagrees with Sarkozy
Friday, November 25th 2011 - 01:05 UTC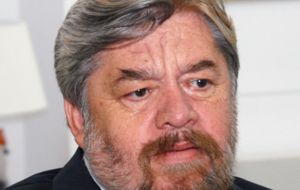 The Argentine ambassador in Uruguay, Dante Dovena said this week that French president Nicholas Sarkozy statement at the G20 summit, in reference to Uruguay (as a tax haven) is not shared by his government.
"Uruguay is no tax haven. The opinion of Sarkozy is not the opinion of Argentina", said the diplomat, the first member of the Argentine government to make a statement on the controversial issue.
In the last week the presidents of Mexico, Felipe Calderón and Brazil came out in support of Uruguay denying the 'fiscal haven' condition and praising the Uruguayan government's commitment to transparency and exchange of fiscal data as requested by the Organization of Economic Cooperation and Development.
Mexico, Brazil and Argentina are Latinamerica's representatives in the G20 group of world's leading economies on a regional basis, and Mexico has taken over from France as president of the organization for the next twelve months.
When Sarkozy in early November and as host and spokesperson of the G20 summit named Uruguay and Panama among thirteen countries in the 'grey' list of 'fiscal havens', in the Uruguayan political system all fingers pointed to Argentina as being behind the inclusion.
Ambassador Dovena went further and said that the administration of President Cristina Fernandez does not want to implement an agreement on fiscal data exchange which implies double taxing, "but rather money laundering controls and on the origin of capital".
Argentine governments have always wanted access to the list of names and assets of her many nationals that have more confidence in Uruguay's legal system and financial institutions. These assets are estimated at over 4.5 billion dollars.
Since Sarkozy's claim Uruguay has been involved in a full fledged campaign to counter the effects of the statement.
Although Mercosur was reluctant to extend its support as a block (Argentina said it needed more time to consider the issue), Brazil, following a meeting between presidents Jose Mujica and Dilma Rousseff, came on the side of Uruguay.
Previously was the support from Calderon when Mujica went to Mexico on an official visit that had been long programmed.
Finally this week it was announced Cristina Fernandez and Mujica agreed to sign an agreement of fiscal data exchange as long as it does consider double taxing and teams of experts from both countries are working on the issue, a task considered time consuming and complex.
"We are interested above all in the control over money laundering, the origin of the money; that is all, period. There is not need for any kind of policy or any accessory controls", said Ambassador Dovena.