Falklands' success story, centre of 30th anniversary of the conflict
Friday, November 25th 2011 - 03:00 UTC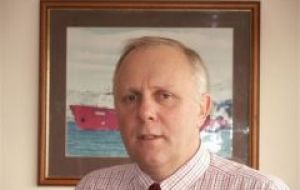 A request for a member of the Royal Family to attend Remembrance day 2012 in the Falkland Islands, during the 30th anniversary year of the liberation of the Islands, has been sent to Buckingham Palace, reports the latest edition of Penguin News
Chair of the Falkland Islands 2012 Committee Lewis Clifton explained it was likely to be "the last big anniversary" as military veterans of the war and Islanders involved grow older, and was therefore being given a profile similar to a 50th anniversary. Around 100 veterans are expected to pilgrimage to the Islands for the Remembrance Day ceremony, others would also visit throughout the year. So far approximately 120 applications have been received by SAMA (82) and most of those who visit will not have visited before.
Approximately 24 persons (12 sponsored guests plus spouses) including a British Minister, will be invited by the Falkland Islands Government to visit the Falklands for the June 14 commemorations:
"We have also been assured of a band presence, and the Resident Infantry Company in the Falklands in June will be the Parachute Regiment."
Mr Clifton said the central themes of the anniversary year would also recognise "the tremendous change in the Falklands in terms of economic opportunities, educational opportunities and a new and vibrant economy but also a new generation of Falkland Islanders; so we want to try to give some emphasis to that."
By early January it has been planned that a booklet will be available for issue to 30th anniversary guests, but also for Members of the Legislative Assembly to use during overseas visits, that will highlight some of the Islands' achievements in the last 30 years.
He said, "It will profile a range of parents and their children who are now significant contributors to the Falklands; this will include people involved in tourism, agriculture, fishing and the government and generally show the whole new vibrant social structure.
"Overall it will emphasise that folks want to take forward the legacy of achievements laid out for us by the British forces in 1982, thus recognising their sacrifice and that we have done something with our future."
He noted that this theme and the booklet also fitted in with the wider Falkland Islands Government public diplomacy initiative that involved attempting to dispel some of the misleading rhetoric on the Falklands, coming out of Argentina.
During the year Members of Legislative Assembly will also attend 30th anniversary commemorations in the UK including that being held at the National Arboretum. Two uniformed members of the Falkland Islands Defence Force will also be present at that ceremony.
President of the Falklands Families Association and widow of Colonel 'H' Jones, Mrs Sarah Jones will visit the Islands in January. (PN)