Bolivia admits 26.1% live in extreme poverty but not on the hunger fringe
Saturday, November 26th 2011 - 03:16 UTC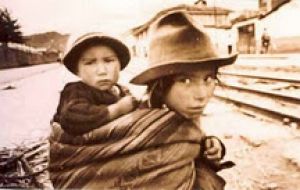 The Bolivian government strongly rejected a statement from a FAO (UN Food and Agriculture Organization) official saying that 26% of the population (2.5 million people) is on the hunger fringe since they can not satisfy their basic food needs.
Deputy minister for Land and Rural Development Victor Hugo Vazquez said that the figures released by the FAO representative in Bolivia, Elisa Penadés, date back to 2005, a year before President Evo Morales was elected to government. Morales is the first indigenous elected president of the country.
Vazquez said that since 2006 the administration of President Morales has invested over 300 million dollars in the rural areas to promote food production and irrigation.
"In Bolivia there is no food crisis or production crisis. The FAO report reflects the evil legacy from the neo-liberal model of previous administrations" insisted the Bolivia official.
Several reports point out that in recent years the social indexes of Bolivia have improved significantly. According to the local Stats office in 2009, 26.1% of Bolivians lived in extreme poverty while 50.6% in moderate poverty. This compares favourably with 2005 when the numbers were 38% and 60%.
A recent report from the UN Population Fund says that 12% of the Bolivian population, estimated in 9 million, lives on 1.25 dollars a day. The average for Latinamerica with less than a dollar per day is 8%.
An IMF report from last June indicated that in 2006, 30.7% of Bolivians lived on less than a US dollar per day, but by 2009 the percentage had dropped to 26% because of direct subsidies to the elderly, school children and pregnant women, financed mainly from taxes on oil and gas revenue, the country's main exports.
However experts point out that these support bonds financed with commodities high prices could not be sustainable in time if they are not based in a parallel effective improvement of food production and crops.
The 2011 UN Development Program of this year rates Bolivia among the Latinamerican and Caribbean countries with low-mid development, ahead of such extreme cases as Honduras, Nicaragua and Guatemala.