What are the real reasons behind Brazil's interest in a nuclear powered submarine?
Saturday, November 26th 2011 - 03:10 UTC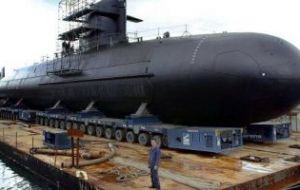 By Lucius Lomax<br />
The idea of a rogue nation using peaceful nuclear technology for armaments has been explored extensively by both Hollywood and the United Nations. But the idea of acquiring nuclear power—under the pretext of military use—with the real intention of commercial development appears to be an original idea of the Brazil government.
A deal was struck two years ago with the French to build five submarines for Brazil, one of them powered by a nuclear reactor, and all stationed at the Sepetiba sub base in Rio. Authorities in Brasilia have given a wide variety of reasons, over three decades, for wanting to pursue nuclear boat technology, most recently citing protection of the country's valuable oil fields and energy platforms. None has seemed very convincing and now, with work under way and centrifuges soon spinning, a new explanation has taken shape that has more to do with economic competition than undersea warfare.
First, why you don't need a nuclear sub to protect coastline: US experts have thrown cold water on the idea that a nuke is even right for the job.
"Current thinking on coastal defence of undersea infrastructure," said a prominent academic at the US Naval War College, "is being focused on unmanned systems and capabilities that offer persistent surveillance. Nuclear submarines or submarines propelled by more conventional means represent an expensive solution that would require several ships to provide persistent protection." US companies are presently developing underwater drone technology, in principle not unlike the airborne drones that are increasingly important in surface warfare. "In coastal defence," said the US expert, who did not wish to be identified, "surveillance systems ashore and in sufficient quantities at sea would provide a more efficient capability."
Nuclear subs are built, instead, to "project power"—or at least that is how the U.S., Britain and other members of the nuclear-capable club use them. Brazil is now the only BRIC country without nuclear submarines (two years ago India launched one, and has since rented another from Russia) and also the only one without nuclear weapons, Brazil being a belated and some would say reluctant signatory of non-proliferation treaties.
At present, French engineers in Rio de Janeiro are reportedly working on an 11 megawatt reactor as a prototype of what will be used in the ship, to be completed by 2021. A former senior CIA executive, himself ex-Navy—when told of the Brazilian efforts—said that the real reason was probably much more likely prestige than protecting oil fields. That may depend on how "prestige" is defined. In any case, the idea of a nuclear submarine patrolling among the drilling platforms off Rio, in the "pre-salt" regions or even at a chokepoint like the mouth of the Amazon, is probably erroneous.
So what are the Brazilians up to? A clue comes from a US academic.
Wendy Hunter, a University of Texas researcher who writes about the Brazilian military, recalled attending a Navy presentation to the Brazilian Chamber of Deputies in the early 1990s, when the subject of nuclear propulsion was discussed, in which the naval officer testifying said that the acquisition of a nuclear sub (presumably the engineering and logistics) might be more important for Brazil than actually owning one.
This view gained further credence two years ago when the Brazilian government issued a "clarification" of the reasons for pursuing the contract with France. Of the five submarines to be built with French assistance, each in turn will have a greater Brazilian contribution, ending with the fifth vessel, which will be nuclear-powered. "On the contract with France," the Brazilians declared, "the national content index reaches 20%, representing the production in Brazil of more than 36,000 items for the submarine, including complex systems, in addition to the transfer of technology to domestic companies. There are already more than thirty approved Brazilian companies, and several others are in the process of qualification." In the final portion of the Brazilian declaration, the possibility of yet another technological transfer, giving nuclear propulsion to Brazil's civilian fleet, is only hinted at, but seems clear.
"The project will also allow the transfer of vital dual-use technologies which will further increase the competitiveness of Brazilian industry," the statement read, "which is integrated more and more into the national strategy of development." Russia, Britain, the U.S. and Germany have all tried nuclear propulsion in non-military shipping, with limited success. Recently, China's Cosco shipping line has proposed using nuclear propulsion in its vessels. One of the likely routes, according to the industry-supported World Nuclear Association, is South America to Asia.
Which doesn't mean Brazil doesn't have defence needs. A recent paper by Oxford's Centre for Brazilian Studies says that despite a longstanding rivalry with Argentina, Brasilia's military leaders were genuinely shocked by the ease with which Argentina was defeated in the Falklands War. The lesson which the Brazilians apparently took away from the war was the importance of submarines, as evidenced by the British torpedoing of the Argentine warship General Belgrano, and the Argentine's costly use of submarines, as a feint, before launching devastating air attacks against British warships.
Nuclear reactor-powered subs are able to go as long as ten years without re-fuelling, and can stay underwater for weeks or months at a time. While naval experts may describe submarines generally as a "poor man's weapon," providing "a lot of bang for the buck," that may not be the case with the nuclear variety. They are expensive and also complicated to run. In the 1960s the US lost two nuclear subs in five years, the USS Thresher and USS Scorpion, with their entire crews, in underwater explosions that have never been completely explained. The Russians have also experienced a series of mishaps culminating with the loss eleven years ago of the Kursk and her crew of 118.
An article in Der Spiegel earlier this year described the Brazilian effort to build a nuclear sub as a Trojan horse of a different kind—a cover for the real effort to build a nuclear bomb.
But José Augusto Guilhon Albuquerque, former director of the University of São Paulo Research Centre for International Relations, who has followed Brazilian nuclear ambitions through the years, says Brasilia has made clear time and time again that the South Atlantic should be a Bomb-free zone.
Speaking of any idea of development of a Brazilian nuclear weapon, he said, "It's unconstitutional, it wouldn't pass in the Congress, it could be stopped at the Supreme Court, and would be rejected by public opinion.