Brazil preparing stimuli plan to boost manufacturing and create jobs
Monday, November 28th 2011 - 21:04 UTC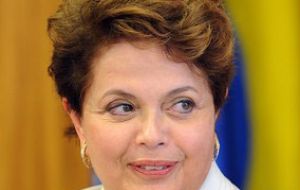 Brazilian president Dilma Rousseff said that the country's economy which slowed down in the last quarter will retake growth and generate more jobs based on government plans to expand manufacturing.
"Brazil is going to grow, and not only because we are becoming rich in oil but because we are going to build a solid complex industry that will provide us with equipments, goods, besides the expansion of the services industry that is closely linked to the information technology and new jobs" said Rousseff.
"Brazil is moving to become a major generator of jobs for the people and quality jobs" she added.
The Sao Paulo financial press reports the Brazilian government is considering a stimuli package for some sectors in 2012, in the framework of a plan to re-launch the economy, which this year is poised to expand 3 to 3.5%, according to analysts.
Rousseff underlined the activity of the naval industry with the launching last Friday of the oil tanker 'Celso Furtado' the first ever to be built in Brazil since 1997.
"This vessel is the symbol of the re-launching of our naval industry. Now in Brazil we are manufacturing ships, making investments and creating jobs: shipyards are employing 60.000 people directly" underlined the Brazilian president in her weekly program "Coffee with the President".