Chile requests extension until 2020 to comply with antipersonnel mines clearance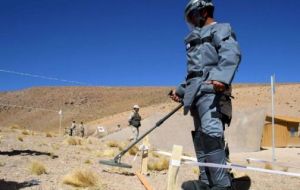 Chile formally requested Monday an extension until March 2020 to complete antipersonnel mines clearance particularly to the north and south of the country, during the meeting of the signatories and observers of the Ottawa Convention taking place in Phnom Penh, capital of Cambodia.
"Currently we have de-mined approximately 25% but there are many factors specially climatic and geographic which have influenced in not having advanced with the celerity we would have wished", said Colonel Juan Mendoza who is the Executive Secretary of the Chilean National Mines Clearance Commission.
Chile has until March 2012 to finish clearing antipersonnel mines according to the treaty banning these explosives which gives country members a ten-year period to comply.
Mendoza said that effective de-mining began in 2004, two years after Chile became party to the banning treaty but until 2009 the country was unable to have the appropriate level of equipment to abide by its signed commitments.
"Chile's work has been based on responsibility, transparency and security in each of the mined fields and the danger zones are correctly signalled, delimited and fenced", said Mendoza before the conference.
In Chile an estimated 189.000 antipersonnel mines were planted in border areas during the seventies and are concentrated in six regions: Arica and Parinacota, Tarapaca, Antofagasta, Valparaiso, Metropolitan area and Magallanes region in the extreme south.
Chile's petition will be submitted to a vote next Friday 2 December, because it needs a majority vote from member countries to prosper.
"Member states of the treaty consider Chile an example of abidance of its de-mining obligations", said Kerry Brinkert, head of the Convention for the banning of antipersonnel mines", who added that Chile has done most of the work with its own financial resources.
Besides Chile four other countries have requested an extension: Eritrea, Algeria, the Democratic republic of Congo and the Republic of Congo.
At the meeting it was also announced that Finland had become the 159th signatory country of the Ottawa treaty for the banning of antipersonnel mines. The Finnish Parliament voted on Friday and the decision was passed by a vote of 110 to 47, with 42 MPs absent.
Likewise Burundi announced it had completed clearance duties and had joined the list of countries free of mines. Uganda is expected to clear its fields next year.
The Ottawa convention which regulates the use, storing, production sale and destruction of antipersonnel mines became effective in 1999 and currently has 158 States party to the Anti-Personnel Mine-Ban Convention
However the world's leading powers are not parties of the convention: China, India, Russia, United States nor are Israel, Morocco, Cuba and Singapore.