Colourful plastic recycled penguins "take over" Carrasco airport in Montevideo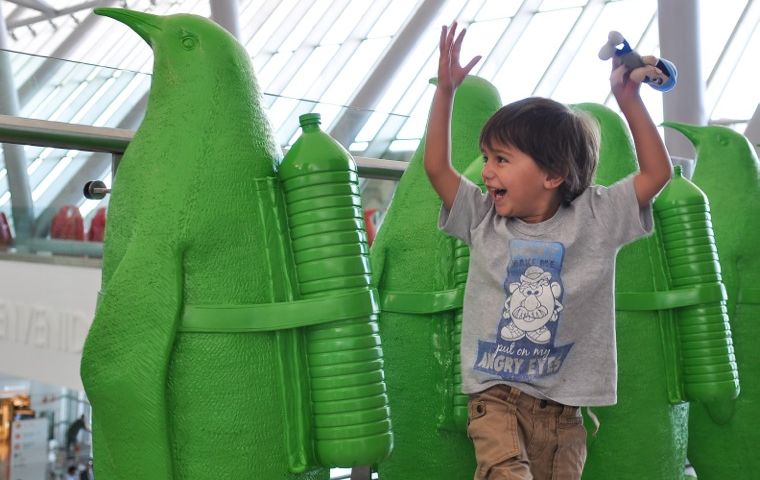 The Belgian artist William Sweetlove (born Oostende, Belgium, 1949) has placed 330 gigantic sculptures with a strong ecological message in the international airport of Carrasco, Montevideo, Uruguay.
The statues, some of them more than 4 meters large, are spread all over the entire airport, and will be exhibited for the public till 15 December 2011. After that date, they will be moved to the airport of Punta de Este (often called the Saint-Tropez from Latin America), the jet-set beach-town of Jose Ignacio, and Pueblo Garzon.
The colourful 'cloned' animals of Sweetlove carry the green message: "don't throw animals, don't throw plastic, and don't throw the future!"
Most of the multicolour giant penguins, dogs, frogs, cats and crocodiles have boots, bottles of water and backpacks to support them against the current climate changes. Most of his materials are recycled plastic, aluminium and bronze.
The animals painted red, blue, black, white and a brilliant green are distributed throughout of the whole airport, from ticket counters to the boarding facilities.
Sweetlove who had exhibitions in over 20 countries, and participated in two biennials of Venezia, said he is intent in conquering with his campaign the South American continent.
In 2012, 1000 enormous animals will be placed in Sao Paulo and Rio de Janeiro; before they had been on display in Rome, London, Paris and Amsterdam.
Sweetlove belongs to "The Cracking Group of Art" that emerged in the north of Italy and is known for the material employed in its works: a kind of plastic derived from a thermo-chemical process out of petroleum.
The reaction is called 'cracking' and gave name to the movement started in 1993 and pretends a rupture with the world of art.
"Cracking is a kind of process that converts natural into artificial, organic into synthetic", according to the new artists' trend.
The outstanding figures of the Cracking Group, Italians Renzo Nucara, Marco Veronese and Kicco; Belgians Sweetlove y Carlo Rizzetti and French artist Alex Angi message is their concern with the sustainability of natural resources in the planet, and that is the reason for using recycled plastic.