Argentina's Grondona admits having been accused more times than Al Capone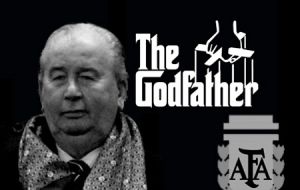 Argentine football strongman Julio Grondona said he is fully recovered for his new mandate as head of AFA (Argentine Football Association) and also admitted "he has been accused more times than Al Capone'.
"I'm fully recovered and will fully comply with the four year mandate" said Grondona, (80) who described his method of work, "quite simple: the three Ps: peace, patience and 'pelotas' (balls in Spanish)"
"We have to work out a future organization so that no adventurer can take advantage of the post. I would feel most perturbed if they had a good word for me, I wouldn't like it, I prefer they keep blasting me", said the controversial Grondona who was re-elected for another four years. He has been undisputed boss of AFA for the last 32 years.
"I would prefer a system not to presidential, FIFA style which spreads responsibilities" said Grondona whose re-election was much contested and criticized.
"Don't pay attention to those who suddenly jump down in a parachute" said Grondona adding that in his 32 years as head of AFA "I've had more accusations than Al Capone".
Further on he said that the Argentine public is not turning its back on the national team.
"That is not so, the thing is we don't have the capacity. It's very sad to play in Buenos Aires with the national team and not having the main (Monumental) stadium habilitated".
Grondona further on considered the serious financial situation of most Argentine soccer teams but also cautioned that "in some clubs they have more people aspiring for elected posts than associates has the club".
"Many think too much with their hearts and not enough with their heads; many times things are too politicized and people forget about clubs and spend all the time complaining".
Grondona warned: "you simply can't live off the air and sign what you should not sign" adding that in "Argentina money does not have a stable value" so we must find the way to impose strict controls on the expenditure of the clubs".