Markets react positively to talks for speeding the EU decision making process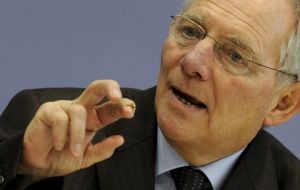 Germany and France stepped up a drive on Monday for intrusive powers to reject national budgets in the Euro zone that breach EU rules, as a market rout of European debt eased temporarily on hopes of outside help for Italy and Spain.
The OECD rich nations' economic think-tank said the European Central Bank should cut interest rates and step up its purchases of government bonds to restore confidence in the euro zone, which it said now posed the main risk to the world economy.
In Brussels, finance ministers of the 17-nation currency area meeting on Tuesday are due to approve detailed arrangements for scaling up the 440 billion Euro European Financial Stability Facility rescue fund to help prevent contagion spreading in bond markets, and to release a vital aid lifeline for Greece.
Berlin and Paris aim to outline proposals for a fiscal union before a European Union summit on December 9 increasingly seen by investors as possibly the last chance to avert a breakdown of the single currency area.
"We are working intensively for the creation of a Stability Union," the German Finance Ministry said in a statement. "That is what we want to secure through treaty changes, in which we propose that the budgets of member states must observe debt limits."
It also dismissed a report by the newspaper Die Welt that Germany and the five other Euro zone states with top-notch AAA credit ratings could issue joint bonds.
Finance Minister Wolfgang Schaeuble acknowledged on Sunday that it may not be possible to get all 27 EU member states to back treaty amendments, saying agreement should be reached among the 17 Euro zone members.
"That can be done very quickly," he told ARD television, adding that it only required changing an additional protocol to the EU's Lisbon Treaty
Meanwhile in Italy Prime Minister Monti faces a testing week as he seeks to shore up the country's strained public finances, with an IMF mission expected in Rome and market pressure building to a point where outside help may be needed to stem a full-scale debt emergency.
However, an IMF spokesperson poured cold water on a report in the Italian daily La Stampa that said up to 600 billion Euros could be made available at a rate of between 4-5% to give Italy breathing space for 18 months.
"There are no discussions with the Italian authorities on a program for IMF financing," an IMF spokesperson said.