Poverty in Latam at lowest level in 20 years; but 174 million are still below the line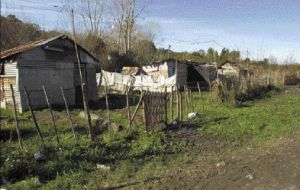 Poverty and indigence in Latin America and the Caribbean are at their lowest in twenty years according to the latest report from the UN Economic Commission for Latin America and the Caribbean, ECLAC, released on Tuesday in Chile.
Between 1990 and 2010 the poverty rate in Latin America dropped by 17 percentage points (from 48.4% to 31.4%), while the indigence rate fell by 10.3 percentage points (from 22.6% to 12.3%), points out the Social Panorama of Latin America for 2011.
ECLAC Executive Secretary Alicia Bárcena anticipated at the presentation of the report that the poverty level will drop to 30.4% in 2011, while the indigence rate will increase slightly to 12.8% because of food prices and their impact in household incomes.
"This means that the region will close the year with 174 million inhabitants living in poverty, 73 million of which are living in extreme poverty or indigence. In 2010 the numbers were 177 million and 70 million", said Bárcena. This was helped by an increase in jobs and labour income plus monetary transfers to the most disadvantaged.
"Poverty and inequality continue to decline in the region, which is good news, particularly in the midst of an international economic crisis. However, this progress is threatened by the yawning gaps in the productive structure in the region and by labour markets which generate employment in low-productivity sectors, without social protection" warned Ms Bárcena.
The countries where the most significant reduction in poverty has been experienced are Peru, Ecuador, Argentina, Uruguay and Colombia. At the other extreme Honduras and Mexico underwent an increase in poverty rates, 1.7% and 1.5% respectively.
The report also highlights that the improvement in distribution was not affected following the economic crisis. Between 2008-2010 in Mexico, Venezuela and Uruguay, the Gini index dropped to an annual rate of over 2% and in El Salvador and Peru it was over 1% per year.
Furthermore, the Social Panorama of Latin America 2011 reveals that public expenditure, and in particular social expenditure, has increased significantly over the past 20 years in the region.
The lowest spending per capita (less than 300 dollars) is in Bolivia, Ecuador, Guatemala, Honduras, Nicaragua and Paraguay, most of which is spent on education. Countries with social spending per capita above 1.000 dollars include Argentina, Brazil, Chile, Costa Rica, Cuba, Trinidad and Tobago and Uruguay.
But the report also shows there are significant gaps in labour relations and social protection in the region: only four out of ten workers contribute to the social security system.
Likewise households with large numbers of family members, female heads of family and people working in rural sectors, have the lowest contribution to social security and therefore are mostly absent from the benefits. Furthermore in 12 out of 17 countries analysed, social security and pensions' only benefits less than half of the elderly.
ECLAC recommends most countries to reform their social security schemes based on contributory and non-contributory finance mechanisms for an improved distribution of resources. Otherwise there will be growing problems with the financing of universal social protection for an ageing society and a smaller workforce to support the system.