Russian ambassador thanks RAF S&R chopper team including Prince William
Tuesday, November 29th 2011 - 15:59 UTC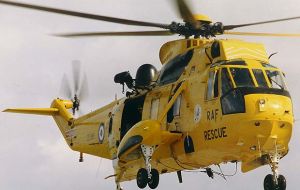 The Russian Ambassador has thanked the crew of the RAF Search and Rescue Flight, which included Prince William, for their attempts to rescue the crew of a sinking Russian cargo vessel this weekend.
Two Russian sailors were airlifted to safety by an RAF helicopter, based at RAF Valley in Anglesey, after their cargo vessel was hit by a 15m wave in the Irish Sea on Saturday.
A third man was pulled from the water, but was later pronounced dead, while the search for five missing Russian crew members from the Russian MV Swanland was continuing Tuesday.
The RAF Search and Rescue Sea King helicopter crew were Flight Lieutenant Bunn (captain), Flight Lieutenant Wales (co-pilot), Sergeant 'Livvy' Livingstone (radar/winch operator) and Master Air-crewman Rich Taylor (winch-man/paramedic).
The Russian Ambassador, Alexander Yakovenko, thanked Prince William and his colleagues in a letter posted on his embassy's website. He wrote:
"All day long we were anxiously following the rescue operation searching for Russian seamen from the sunk Swanland vessel.
"We know that you took an active part in the rescue and the two seamen were saved thanks to your selfless effort under the bad weather conditions.
"Let me express to you and your colleagues my deepest gratitude for saving the lives of the Russian citizens."
The Swanland sank about 16km west of the Lleyn peninsula in North Wales.
The RAF Search and Rescue team was called into action when the cargo ship issued a mayday call at around 0200hrs when its hull cracked. The two surviving members of the crew of the Cook-Islands-registered vessel were pulled from an inflatable life raft soon after the alarm was raised.
Both men were taken to hospital in nearby Bangor as a precaution and later discharged.
The search operation also involved helicopters from the RAF base at Chivenor and the Irish Coast Guard, three coast guard rescue teams, lifeboat crews from Pwllehi, Porthdinllaen, Abersoch and Trearddur Bay and a fixed-wing aircraft from Ireland. (Defence News)