UNASUR considers strengthening emergency fund for balance of payments problems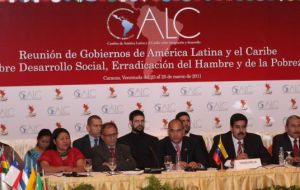 The Union of South American Nations, Unasur, may decide this week to strengthen an emergency fund to help countries in balance of payments problems, the Brazilian Finance Ministry's international affairs secretary said.
"The discussion has advanced," Carlos Cozendey said from Brasilia. "The issue is being seriously assessed."
The region's presidents will discuss the issue when they meet on Dec. 2 in Venezuela as part of the Community of Latin American and Caribbean States, Celac, Cozendey said.
While Brazil and most other South American nations favor strengthening an existing mechanism, the 4 billion dollars Fondo Latinoamericano de Reservas, FLAR, Venezuela and Ecuador want a new fund that will also develop the regional bond market, he said.
FLAR pools foreign currency reserves from seven Latin American nations, (Bolivia, Colombia, Costa Rica, Ecuador, Peru, Uruguay and Venezuela), to help address balance of payment problems, Cozendey said.
Members of the 12-nation Unasur discussed the possibility of either creating an emergency fund or strengthening an existing mechanism in August and again confirmed it in Buenos Aires during their latest meeting.