S&P reduces credit ratings of big US/EU banks following overhaul of criteria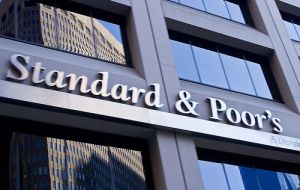 Standard & Poor's reduced on Tuesday its credit ratings on several big banks in the United States and Europe as the result of a sweeping overhaul of its ratings criteria.
JPMorgan Chase & Co (JPM.N), Bank of America Corp (BAC.N), Citigroup Inc (C.N), Wells Fargo & Co (WFC.N), Goldman Sachs Group Inc (GS.N), Morgan Stanley (MS.N), Barclays Plc (BARC.L), HSBC Holdings Plc (HSBA.L) and UBS AG (UBSN.VX), had their ratings reduced by one notch each. A notch is one third of a letter rating.
Although S&P began warning the markets more than a year ago that it was revising its ratings, the announcement comes at a time when the markets for bank debts are fragile.
"Banks could see higher funding costs," said Guy LeBas, chief fixed income strategist at Janney Montgomery Scott in Philadelphia.
The ratings cuts were announced as S&P released its updated ratings on 37 of the biggest banking companies in the world. Revised ratings are to be announced for more than 750 banks over coming weeks, S&P said earlier this month.