Tens of visitors evacuated when HMS Belfast gangway in London collapsed
Wednesday, November 30th 2011 - 21:21 UTC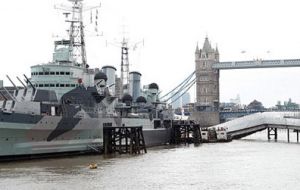 Nearly 170 visitors were evacuated Wednesday from the HMS Belfast after the gangway leading to the tourist attraction collapsed. AOL (UK) reports that London Metropolitan police have said that two men were taken to hospital with minor injuries.
Visitors to the ship that is permanently moored on the Thames were evacuated from the vessel and taken by boat to London Bridge Pier.
The London Fire Brigade had been planning a raining exercise on the ship, but were instead involved in the rescue of tourists.
The HMS Belfast is part of the Imperial War Museum, whose spokesman explained that the injured men were contractors who had been working at the site.
According to the museum's website, two contractors working on the site 'have sustained minor injuries and have been taken to hospital as a precaution'.
The ship has been closed until further notice while the museum carried out an 'urgent and full investigation' into exactly what happened.
The statement added: "At the moment our priority is ensuring all our visitors are safe".
The museum website explains that HMS Belfast experience shows you what it was like to live and work on board a warship, with nine decks to explore, and battle stories from the Second World War and beyond.
There's also a Gun Turret Experience that places you in the middle of a battle during the Second World War, while the interactive Operations Room allows you to control a fleet of ships off North Borneo.