Countdown for Brazil's Labour minister: sixth cabinet loss on corruption allegations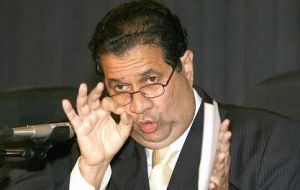 Brazil's Executive Committee on Public Ethics, on a unanimous decision adopted on Wednesday recommended President Dilma Rousseff the removal of Labour and Employment Minister Carlos Lupi.
"The Commission understood that the Minister had not explained the basis of the accusations which are several irregular contracts signed by people belonging to his party", said Sepulveda Pertence, spokesperson for the five-person committee.
The recommendation does not target a specific motive for the exit of the minister, it refers to an article from the Ethics Code for top officials from the Brazilian federal administration which entitles the commission to extend a warning, a strong ethical reprimand or suggest his removal.
Luppi has been accused of a series of irregularities in contracts awarded by his ministry to entities linked to his own political party.
The Commission's decision surprised even Lupi's allies in the Senate. "It's not fatal, but it's a bullet", said Senator Romero Jucá recalling that during a Congressional hearing the minister said that "to get me out of the ministry, only fallen with a bullet".
Suspicions about Lupi's wrongdoings surfaced following an early November article in Brazil's largest circulation magazine Veja, which claimed that current officers and former staff from the Ministry were involved in a scheme to collect money from contracts which was re-routed to the party's coffers, Labour Democratic Party, PDT.
Following the revelations Lupi sacked one of the staff mentioned in the magazine and said he would only leave the cabinet "fallen by a bullet". President Rousseff did not like his statement for which Lupi later retracted and apologized.
On the 12 November edition 'Veja' revealed Lupi had flown in a private jet contracted by the owner of a network of NGO (non government organizations) which has benefited with Labour ministry contracts valued at 10 million Reais (approx 5.2 million dollars). Lupi first reaction was to say he did not know the businessman but later admitted having taken the flight but never said who paid for it.
Things became even more complicated following an interview published by Folha de Sao Paulo 26 November exposing that Lupi had been a "ghost-staff" from the Lower House of Congress for almost six years. He enjoyed his condition of 'best paid advisor', with very few appearances at Congress from December 2000 to June 2006, when he was also chairing his PDT party.
If Lupi finally steps down, he would become the sixth member of President Rousseff's cabinet who was forced to resign following strong allegations of corruption.